NEWS
Pia Toscano Talks Teaming Up With Beau Mark Ballas on 'Dancing With the Stars'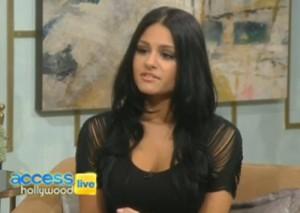 Pia Toscano is hopping from the set of one reality show to another. The recent American Idol cast-off is gearing up for her performance on Dancing With the Stars next week where she will be collaborating with her love interest, dance pro Mark Ballas.
"We both film at CBS so we would bump into each other, and you know, he's just a really sweet guy," Pia told Access Hollywood Live's Billy Bush and Kit Hoover of Mark Thursday. "He is a very nice guy."
Article continues below advertisement
OK! NEWS: MARK BALLAS DENIES PULLING STRINGS FOR PIA TOSCANO TO PERFORM ON DWTS
Pia is going to bring her powerhouse vocals to DWTS while Mark takes the dance floor on next week's results show!
"I think that's what's going to happen. I heard that the other night," Pia shared. "Mark is going to dance – I believe with Karina Smirnoff."
Pia also revealed that despite recent reports, she is not debuting a single just "yet."
"I actually haven't seen music producer Jimmy Iovine at all since I left the show, so I'm looking forward to seeing him," she said. "Hopefully that's somewhere down the line. But we're just really focusing now on the tour."
Pia also explained how she tried out for Idol five times.
OK! VIDEO: CHRIS JERICHO SAYS HE IS RESPONSIBLE FOR PIA TOSCANO & MARK BALLAS LOVE CONNECTION
"I kind of just said to myself, 'I really want to go all the way,' " the Bronx beauty said. "And I've been sent home so many times – so, I applied everything that the judges told me on what I needed to improve, and I worked really hard, and this is my year."