NEWS
Pia Toscano's Debut Single Is About "Growing Into Being a Woman"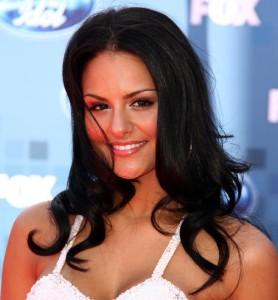 First her record deal announcement, now a debut single for Pia Toscano! The newest artist to sign to Jimmy Iovine's Interscope Records is gearing up for the release of her debut single, which will be part of the American Idols Live tour!
Today it was announced that Pia had officially signed with Interscope Records, after weeks of speculation.
OK! NEW: PIA TOSCANO LANDS RECORD DEAL; DEBUTS SINGLE NEXT WEEK
Article continues below advertisement
The brunette bombshell — who is rumored to be dating Dancing With the Stars hunk Mark Ballas — has now revealed that she will release her debut single, "This Time," on July 12.
And for those lucky enough to have tickets to the American Idols Live tour, which kicks off Wednesday in Salt Lake City, Utah, Pia will also perform her single during her time on stage.
"It's a great song," Pia told USA Today's Idol Chatter blog after finishing her dress-rehearsal Tuesday night. "It's about growing into being a woman, being independent. It can apply to so much, whether it's me on American Idol or being in a relationship."
The best part — her song is not a ballad!
"I literally learned it a few hours before I went into the studio," she shared of the tune. "It was one of the fastest songs I've ever recorded. We had the vocals done in less than an hour and a half — that's how we knew it was the song we wanted."
Pia is already more than halfway finished with her album.
Article continues below advertisement
"I'm eight to nine songs into my album," she said.
Pia also revealed that after her shocking elimination, she had doubts about the future of her career.
"When I was on stage, I was terrified my career was over. (I thought,) 'I'm finishing ninth, no one's going to want to work with me!' Then, the next day, I had a few meetings. And the next week, when I came back from doing press in New York, we did a whole demo thing. We recorded a bunch of songs, and they all worked out really well. That led to my deal."
She is nervous, but at the same time excited to perform her new single at next Wednesday's opening tour night.
"No one has heard my single, so it's a little scary introducing it to everybody without them having heard the song," she says. "But I love this song. I have so much fun singing it -- it's so catchy."