NEWS
Posh Puts On a Not So Happy Face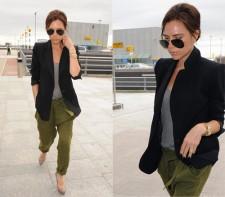 Victoria Beckham arrived at Heathrow Airport in London on a flight from L.A. today. Posh had a concerned look on her face. Granted the fashionista rarely smiles, but she looked extra unhappy today as she headed through the airport. Maybe she is worried about her hubby David Beckham's Achilles tendon injury.
Last week Victoria rushed to David's side, helping him as he underwent surgery for his soccer injury.
MORE ON:
OK Galleries & Photos
Article continues below advertisement
She proved she'll do anything for her husband she she ditched her signature nine-inch heels to race to her husband's bedside.
Looks like its back to motherhood for Posh, as she takes care of the boys while David heals.