NEWS
President Obama, Katie Couric, Ryan Seacrest & More Respond to 'Dark Knight Rises' Colorado Shooting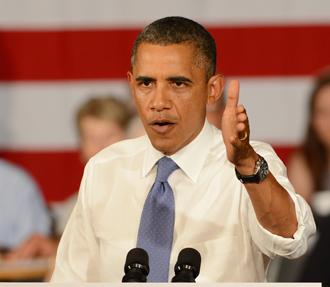 In the wake of the Dark Knight Rises Colorado shooting, President Obama, Warner Bros. and many stars have expressed their sorrow and condolences for the victims and their families.
OK! NEWS: TRAGEDY STRIKES THE DARK KNIGHT RISES ON OPENING NIGHT
"Michelle and I are shocked and saddened by the horrific and tragic shooting in Colorado," the president said in response to the reported 12 people killed and 38 wounded in an Aurora, Colo., movie theater.
Article continues below advertisement
"Federal and local law enforcement are still responding, and my administration will do everything that we can to support the people of Aurora in this extraordinarily difficult time. We are committed to bringing whoever was responsible to justice, ensuring the safety of our people, and caring for those who have been wounded."
Meanwhile, Warner Bros. said they were "deeply saddened" by the turn of events, adding they "extend our sincere sympathies to the families and loved ones of the victims at this tragic time."
On Twitter everyone from Donald Trump to Katie Couric to the Jersey Shore's Deena Cortese expressed outrage over the 24-year-old man accused of going on an early morning killing spree.
OK! NEWS: DID DAVID LETTERMAN REVEAL A HUGE SPOILER FOR THE DARK KNIGHT RISES?
"At least 12 dead and 50 wounded in Colorado--bring back fast trials & death penalty for mass murderers & terrorists," Tweeted The Donald.
"My heart goes 2 all the victims families in colorado. No one should have to go thru that. When r we gonna get guns removed in this country?!" wrote comedian John Leguizamo.
Article continues below advertisement
"Thinking about the families who were affected by this horrible incident in Colorado. My thoughts and prayers are with you all," said Ryan Seacrest.
"My sincerest condolences to the victims and families in Colorado. So sad, so mindless," added Olivia Munn.
Katie Couric wrote that the murders were "tragic," and Whoopi Goldberg extended her "hearts and prayers to all affected by the craziness in Colorado."
"My prayers go out to the victims and there families in the Aurora Colorado theatre shooting.. So sad," Tweeted Deena.