NEWS
Did David Letterman Reveal a HUGE Spoiler from 'The Dark Night Rises'?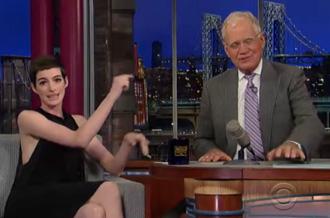 Uh, oh, looks like David Letterman better start sleeping with one eye open! 
The late night host might have revealed a huge secret from Christopher Nolan's highly anticipated final installment of his Batman franchise, The Dark Knight Rises last night while interviewing Catwoman herself, Anne Hathaway. 
SPOILER ALERT: If you DO NOT want to ruin the anticipation of the biggest film of the summer, stop reading! (We're serious, you've been waiting long enough). 
Article continues below advertisement
"You know this is a whole thing?" Anne said. 
"I know it's a whole thing, but it will be fine!" Dave giggled, trying to take back what he said.
But Anne didn't find it funny, especially because she knows Mr. Nolan is going to have a conniption when he finds out Dave opened his big mouth! 
"I just want you to know the wrath that you have just invited onto yourself," she told Dave, as she pointed to him. "Chris Nolan, I had no part in it, I'm sorry."