NEWS
President Barack Obama — Live, From New York!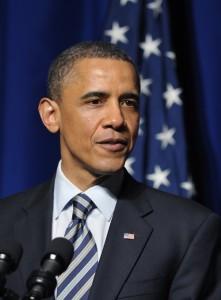 President Obama had a very busy day on Wednesday. It began with the news that the White House had released his long form birth certificate (which incidentally challenges conspiracy theorist Donald Trump to release his tax returns, a promise he made in the media), followed by a taping with his close pal Oprah Winfrey in Chicago for one of her last daytime shows alongside First Lady Michelle Obama. He then boarded Air Force One and headed to New York for a Democratic National Convention fundraising dinner at former New Jersey governor Jon Corzine's home, another DNC event at New York's distinguished Waldorf Astoria Hotel followed by remarks at a DNC event at The Town Hall in New York.
Article continues below advertisement
OK! NEWS: PRESIDENT OBAMA RELEASES BIRTH CERTIFICATE TO DONALD TRUMP'S DELIGHT
We're tired just thinking about it!
OK! was on hand at The Town Hall to catch all the action (and there was plenty of it) at the event, where Obama showed off his comedic chops during the 35-minute talk. We can't help but wonder if Harold & Kumar actor-turned politician Kal Penn (currently the Associate Director of the White House Office of Public Engagement) has been giving the President lessons!
While the speech, which had the opening act of none other than Jimmy Fallon's house band, The Roots, was both constructive and informative (including how his campaign for reelection would be based in Chicago instead of DC, discussing issues of economy, unemployment and welfare), the most authentic moments were the off-the-cuff commentary and audience commotion (which you couldn't really see on camera). But luckily, OK! had the best seat in the house — in the back, right next to some secret service personnel where we could take in all of the excitement.
Article continues below advertisement
OK! VIDEO: WATCH DONALD TRUMP DEBATE PRESIDENT OBAMA'S BIRTH CERTIFICATE ON GOOD MORNING AMERICA
We went through security checks and pat downs to bring you our top 15 moments of the night:
1. In anticipation for Obama after The Roots played, the crowd had their cameras out and were on the edge of their seats waiting for the President when they heard the announcement: "and now we welcome President…" (pause) "…Obama's campaign manager!" A collective sigh of "aww shucks" filled the room, followed by laughter. Obama was just a few minutes away!
2. Obama's intro (a nod to the unrelenting Trump "birther" claims and his birth certificate being released that morning): "My name is Barack Obama. I was born in Hawaii. The 50th state of the United States of America. No one checked my ID on the way in. But just in case..." Note: Like any good comedian knows, if a joke works, you keep it. He also reportedly used the "check my ID at the door" line earlier that night at his first fundraising event at a dinner Corzine's home.
Article continues below advertisement
3. He gave a shout out to Oprah! "I was out in Chicago earlier today. I was taping Oprah for one of her last shows. I was a little disappointed though. When I looked under my seat, there was nothing there!" None of your famous giveaway for the President, Oprah?
4. When some restless protester-types interrupted the talk with incoherent screams less than four minutes into the President's remarks (a couple other rowdy folks had already been kicked out by security for disrupting a minute in), Obama quickly took control of the room saying: "I think they made their point, they're alright. But if any of the rest of you … let's just knock it out right now!" (the crowd cheered and laughed) … He later added: "I know you guys are all fired up because The Roots were playing."
5. Despite Obama's hair looking noticeably darker (dye job, perhaps?), he was quick to admit the years have taken a toll on his good looks. "A few things have changed since 2008…. I'm a little grayer!" (laughs around the room). When a woman screamed out something about the President looking good, which was greeted by cheers from the crowd, he quickly responded: "Michelle thinks so also." Watch out!
Article continues below advertisement
6. At least three cell phones went off. Awkward. C'mon people, it's the President. Of America. Turn it off!
7. Oh, how things have changed President Obama: "When I decided to run some of you were on this journey, three years ago, four years ago… when folks couldn't pronounce my name…" he joked.
8. "You didn't elect me so that'd I'd have a fancy car or a nice place to live," Obama said. "My house in Chicago was just fine!" (laughs) "You elected me to make a real difference in the lives of people across this country."
9. As any Facebook user knows, nothing is more annoying than a slow internet! "Today, South Korea has faster high speed internet than we do… We created the internet!" (cheers and laughs). "We should be first! We shouldn't be second or thirds or fifth or sixteenth place when it comes technology innovation, investing in basic science and research."
10. During one part of his speech that turned into a live "fill in the blank" Mad Libs, a man interjected his thoughts.
Article continues below advertisement
Obama: "If we're serious about taking responsibility for the debt then we're going to have to make some tough decisions--"
Guy: "No welfare for the rich!"
Obama: "We've got to decide what we can afford to do without--"
Guy: "Guantanamo!"
11. It wasn't the only time people in the crowd decided to give their two cents. As Obama discussed: "What are we doing about this energy thing, it's not happening fast enough--" A woman yelled: "Small business!" Obama: "Oh yeah, small business… I've got a couple thousand political consultants here," he joked back. He later commented after someone yelled about the gas prices saying, "There's a lot of truth tellers in here!"
12. "If I'm driving by Central Park and I see an elderly couple strolling hand in hand and I think to myself, you know, some day, that's Michelle and me. We're going to be strolling hand in hand and I'll be able to take a walk in Central Park again and nobody will recognize me." (the crowd laughs). However, he had a significant point to make: "But it makes me feel good to know that couple has social security, they've got Medicare. That they've got a sense of dignity and security in their golden years."
Article continues below advertisement
13. He self-deprecatingly commented on his criticisms: "And some times, oh you know, 'How come Obama's not communicating properly? You know, it's like, we're in their narrative. You know, I see your comments!" he said. (the crowd laughed) "And you look wistfully at the poster and you remember that day in Iowa. I know. And your friends come and talk to you, 'Oh, Obama's changed'…"
14. Following The Town Hall meeting at Belgium bar BXL Café next-door, patrons were drinking beers after the bar was put on lock down when the President arrived. "We couldn't leave!" one patron told us. Security was tight, but there are worse places to be stuck in than a bar!
15. A half an hour later at the same bar, suited security personnel who were inside The Town Hall earlier (we can't be sure they were necessarily secret service since Obama had left for JFK) were now off duty and grabbing a beer together discussing many things, including working out. Gotta stay fit to help the POTUS!