NEWS
President Obama Releases Birth Certificate to Donald Trump's Delight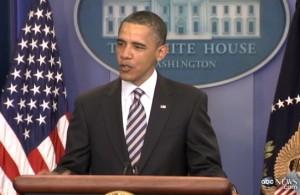 Article continues below advertisement
The White House said they decided to release the birth certificate to put the conspiracy theories surrounding President Obama's birth to rest.
As soon as Donald landed in his helicopter in New Hampshire today, he took credit for forcing the release of the birth certificate.
"Today I am very proud of myself because I have accomplished something that no one else has accomplished," Donald told reporters (via ABC News). "I am really honored, frankly, to have played such a big role in hopefully, hopefully, getting rid of this issue."
But Donald says he still wants to see the birth certificate to examine it and "hopes it's true" before moving on to weightier issues.
OK! NEWS: DONALD TRUMP RESPONDS TO ROBERT DE NIRO — "HE'S NOT THE BRIGHTEST BULB ON THE PLANET"
Watch President Obama address releasing his birth certificate, below!
Watch Donald Trump talk about "his accomplishment" below!