NEWS
President Barack Obama Won't Release Osama Bin Laden Death Photos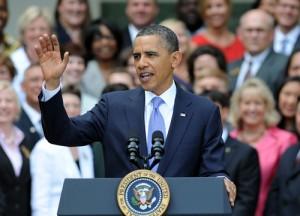 President Barack Obama has made the executive decision not to release the death photos of Osama bin Laden.
CBS News reports that the president "won't release post-mortem images of Osama bin Laden taken to prove his death," which he will discuss more in an interview with Steve Kroft for this Sunday's 60 Minutes.
"The risks of release outweigh the benefits," Republican House Intelligence Committee Chairman Mike Rogers told CBS News. "Conspiracy theorists around the world will just claim the photos are doctored anyway, and there is a real risk that releasing the photos will only serve to inflame public opinion in the Middle East."
Article continues below advertisement
Rogers also verified he has seen the post-mortem photo of bin Laden, whose death at the hand of U.S. special forces was confirmed by the President last Sunday.
"Imagine how the American people would react if Al Qaeda killed one of our troops or military leaders, and put photos of the body on the internet," he added. "Osama bin Laden is not a trophy — he is dead and let's now focus on continuing the fight until Al Qaeda has been eliminated."
But skeptics still want proof that the Al Qaeda leader — responsible for the 9/11 attacks — is really dead.
White House Press Secretary Jay Carney said Tuesday, via CBS, that the photos could "inflame anti-American sentiment."
CIA director Leon Panetta told NBC News that, "I don't think there was any question that ultimately a photograph would be presented to the public."
MORE ON:
president barack obama
Article continues below advertisement
David Martin, CBS News national security correspondent, has been told the photographs are "very gruesome" and won't be for the "squeamish."
"I've had it described to me and it does sound very gruesome," he said. "Remember, bin Laden was shot twice at close range, once in the chest and once in the head, right above his left eye, and that bullet opened his skull, exposing the brain, and it also blew out his eye. So these are not going to be pictures for the squeamish."
Tonight on CBS' Wednesday Evening News, a clip of some of the President's comment will be shown, before the full 60 Minutes interview airs Sunday.
Do you agree with Obama's decision? If a picture is not released as proof, will skepticism exist that Osama isn't dead? Share your thoughts in the comments.
For more on Osama bin Laden's death — including amazing details on how U.S. forces found him and interviews with relatives of 9/11 victims — pick up the new issue of OK!, on stands everywhere, Thursday!