NEWS
Presidential Pup in the Dog House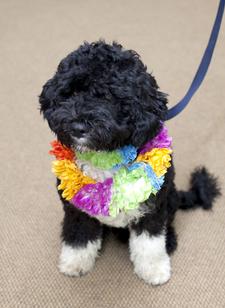 President Barack Obama has kept his daughters – and a country of canine-lovers – waiting for months to see what kind of dog the family would adopt. And now, the wait is over, as the White House announced that a Portuguese Water Dog will be taking up residence in the executive dog house.
The six-month-old pup is currently known as Bo, says the American Kennel Club, and is a littermate of Sen. Ted Kennedy's dog Cappy.
MORE ON:
president barack obama
Article continues below advertisement
Reportedly named after Vice President Joe Biden's son and Michelle Obama's grandfather, whose nickname was Diddley, Bo is sure to be a fun pet for the young girls.
"This breed possesses a lot of energy, so without training or a job to do, the dog may entertain itself by running full-speed down the West Wing or barking at Republicans," joked Mary Burch, Ph.D, AKC S.T.A.R. Puppy and CGC Director. The breed was developed as a working animal that spent most of its day swimming and helping fishermen.