NEWS
Press Prohibited from Palin Book Promotion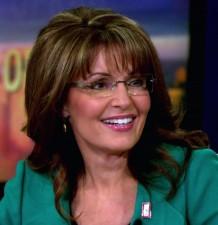 Press will not be invited to Sarah Palin's book promotion next Monday at Fort Bragg in North Carolina. The U.S. Army plans to prevent media from covering Sarah's appearance at the N.C. base, fearing the event will turn into political demonstration against President Barack Obama, according to the Associated Press.
"The main reason is to stop this from turning into a political platform," Fort Bragg spokesman Tom McCollum told the AP. "There are Army regulations that basically prohibit military reservations from becoming political platforms by politicians."Tom added that only one politician can use that platform, "and that person does it as our commander-in-chief."
Article continues below advertisement
Other members of the public would be permitted to attend the event.
The former Alaska governor and 2008 Republican Vice Presidential nominee has already agreed not to give a speech at Bragg, Tom said.
"This will stop someone from grandstanding," he said.
Sarah began her promotional tour this week for a new memoir, Going Rogue.
She was on The Oprah Winfrey Show last week talking about the book, her family, and her daughter's estranged boyfriend, Levi Johnston.
While she did tell Oprah that Levi has an open invitation to Thanksgiving dinner, she also said that the "porn" he is doing is "heartbreaking."
"I hear he goes by the name Rikki Hollywood now," Sarah told Oprah about the father of her grandson Tripp.
Levi's photo shoot for Playgirl was shot last week.
"I call that porn," Sarah said. "A bit heartbreaking to see the road he's on right now."
Levi disagrees with the title of porn, and says he went for a more tasteful approach, as he wasn't totally naked in the mag.
"Because that was never the plan. I'm 19. I'm not looking to do porn," Levi told OK! at last night's GQ2009 Men of the Year party at L.A.'s Chateau Marmont. "That's not what I'm looking to do."