NEWS
'Pretty Little Liars' Recap: The Truth is Revealed about Jenna and Hanna Suffers Ambiguous Loss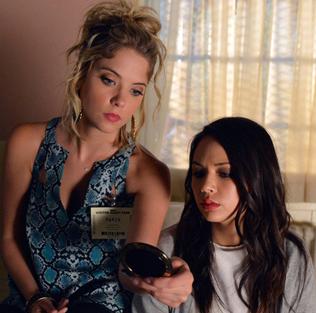 It seems like the girls of Rosewood can't catch a break.
After last week's episode of Pretty Little Liars ended with the new 'A' showing them all the photos they had of Spencer (Troian Bellisario), Hanna (Ashley Spencer), Aria (Lucy Hale) and Emily (Shay Mitchell) at the empty grave of Alison, the girls immediately burned them all. But did they really think it would end there?
Emily, who is still reeling from Mya's death and having to retake all of her exams or else she will have to repeat the 11th grade, is shocked to find a necklace full of teeth in her bag. As she runs out of class to freak out in the bathroom, her close pals chase after her trying to wonder if these are Alison's teeth and who is out to get them now, before stupidly flushing them down the toilet.
Article continues below advertisement
Meanwhile, Spencer still wants to get answers from imprisoned Garrett about who stole Allison's body, but all she gets is hints about Jenna. After talking to Toby (after a hot make-out session), Spencer really begins to wonder if perhaps Jenna can now see and is just fooling everyone. But her research is halted when her mom discovers that Spencer has been visiting Garrett and forbids her from ever doing that again. But Spencer soon finds out that her mom decides to be Garrett's lawyer. Huh!?
Article continues below advertisement
The next night, Hanna wants to go see Mona again, but Caleb isn't dumb, and after she references this ambiguous loss (which she lies and says she googled), Caleb agrees to go with her to the mental hospital. As he sits outside, the doctor refers to the ambiguous loss and realizes Hanna lied to him. But inside Mona's room, Hanna finally reaches a breathrough when Mona speaks to her, asking if the texts are happening again. What!? Maybe Mona isn't quite so looney tunes. But of course, Hanna is asked to leave at that exact moment!
MORE ON:
pretty little liars
Aria isn't having much of a better week as she spots her dad's former mistress Meredith (Amanda Schull) applying for a job at her high school. If that was not upsetting enough, she soons discovers an earring in her locker that she put in Alison's grave which makes Aria flash back to where she got the earrings.
Back in her punk days when found out about her dad's affair, she broke into his office with Ali and found the earrings in couch. She flipped out and with Ali's insistence, they trashed the office and made it look like Meredith did it, so he would dump her. But now 'A' seems to know about this and Aria is soon forced to tell the truth... to both her dad and Meredith. We are not happy to see that this might force Meredith back into Byron's life.
Article continues below advertisement
OK! NEWS: THE STARS OF PRETTY LITTLE LIARS TALK ABOUT 'A' ON GOOD MORNING AMERICA
But as Aria is upset about Meredith, she also wants to help her friend Emily who is struggling to get through these exams, and she forces Emily and Ezra to work with each other, so Ezra can tutor her. Ezra and Emily both seem uncomfortable with the idea as he used to be her teacher and and he is now dating her best friend. But so they get down to business, and Ezra shows Emily how to focus on her studies. When test time comes, it seems to be working and Emily zooms through the first section, but all of a sudden because of a girl playing with her hair, Emily finally starts to remember what happened the night she ended up at Alison's empty grave. It was Jenna who was driving the car that took her there!! Can Jenna really see?
It seems so as Toby finds eye drops in Jenna's bathroom even though the eye surgery supposedly didn't work, and then as the girls huddle in the bathroom to figure out if Jenna can really see, they see Jenna coming and leave the earring on the counter to see if Jenna would see it. And she does, it worked, the girls finally know that Jenna can see!
However, Emily did really mess up her exam and as Ella grades the tests, she feels for the girl, so starts filling in Emily's empty answers. And when Ezra comes to talk to Ella about letting Emily take the test again, Ella tells him not to worry, that Emily did fine. Uh, oh, Ella, we feel that this little bit of cheating isn't going to end well for you.
But as the episode wraps up with 'A' buying new hoodies and gloves, could it be Jenna? Who is the new 'A'?