NEWS
Prince William's Productive Engagement: Sets a Date; Saves a Man's Life?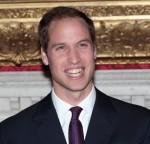 Prince William is starting his engagement off on the right foot. After announcing he's finally engaged to Kate Middleton, he went to work with the Royal Air Force and saved a man's life!
OK! GALLERY: PRINCE WILLIAM & KATE MIDDLETON CELEBRATE ENGAGEMENT; SHOW OFF PRINCESS DI'S RING
Prince William flew a helicopter through thick fog on Thursday afternoon (two days after he announced his engagement to Kate!) to transport a hiker who suffered a heart attack to the hospital.
Article continues below advertisement
The recently engaged Prince serves as an RAF search-and-rescue pilot and had to fly to the highest mountain in Wales, the 3,000-foot of Mt. Snowdon for the rescue.
"If it wasn't for him and the rest of his crew, I'd be dead," Greg Watkins, the 45-year-old victim told the UK's Sunday Mirror (via E! News). "He'd probably say he was just doing his job but, to me, he and his crew are heroes."
"I didn't know Prince William was flying the helicopter until we landed at the hospital," he added. "Even then I felt too unwell for it to really register. The winchman helped me out and on to a stretcher then whispered, 'Prince William's just flown you here.' I looked up at him and just said, 'Oh. Tell him thank you.' It didn't really sink in until I woke up after my operation. Now I think it's amazing."
OK! NEWS: REMOTE KENYAN CABIN LOCATION FOR PRINCE WILLIAM ENGAGEMENT!
And just when you think Prince William's romance with Kate couldn't be more of fairy tale now with this dramatic rescue, he's apparently already set a wedding date, too!
According to the British press, William and Kate are looking at an April 28 date for the wedding. Prince William reportedly requested time off from his Royal Air Force duties for that time.
Article continues below advertisement
OK! NEWS: PRINCE CHARLES TO PRINCE WILLIAM — "DON'T TAKE THE ADVICE OF THE MEDIA"
A lot would have to be organized for that date to happen, since the wedding will be one of the most watched events on television ever.
But while the pressure seems to be on for William and Kate, they both are remaining calm. Prince William enjoyed a friend's bachelor's party in Blackpool over the weekend while Kate enjoyed spending some time with her parents.
Check out pics of Prince William from over the weekend below!