NEWS
Princess Diana Film Set to Debut at Cannes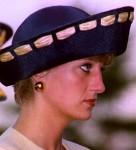 Article continues below advertisement
Filmmaker Keith Allen alleges in Unlawful Killing that the Princess of Wales actually predicted her own death by "accident" about four years before it actually occurred. As noted by PopEater, the film also indicates the royal family and British officials worked hard to cover it up.
OK! NEWS: KELLY RIPA REVEALS REGIS PHILBIN HAS "MAN CRUSH ON PRINCE HARRY"
In fact, the movie's backed by Mohammed Fayed whose son died in the crash alongside Diana. Due to the graphic content, movie theaters in England have banned the film! Cannes has not banned it so it's showing will occur this Friday. Keith told The Guardian in London, "Screening this film in Cannes for the world's media will be both exhilarating and terrifying for me."
OK! NEWS: ROYAL COUPLE JETS TO SEYCHELLES FOR HONEYMOON
He added, The movie is not about a conspiracy before the crash, but a provable conspiracy after the crash. It's a conspiracy organized not by a single scheming arch-fiend, but collectively by the British establishment – judges, lawyers, politicians, police chiefs, secret services, even newspaper editors." Hmmm.
Tacky move by the filmmaker or necessary as an integral part of the flick? Do you think it's necessary to include a morbid photo?