NEWS
Producer Wants Lindsay Lohan to Star in Two Upcoming Mob Movies!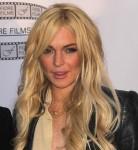 Although Lindsay Lohan's preliminary hearing for a felony theft charge is this Friday, it looks like there may be something more positive for her to get psyched about! Hollywood producer Marc Fiore has her in mind for two of his upcoming mob movies, one of which is the highly anticipated Gotti: Three Generations.
OK! GALLERY: LINDSAY LOHAN IS IN A GOTTI STATE OF MIND IN NYC
Marc told RadarOnline, "I want Lindsay to be in Gotti and another movie that I'm producing. She's a great, great actress." Not shying away from the speculation about this role, Lindsay even posed at a press event with the real Gotti's daughter, Victoria Gotti!
Article continues below advertisement
As for the second project? Mob Street is about the Mafia's involvement in Wall Street's high finance and it's written by Chazz Palminteri, star of The Usual Suspects.
OK! GALLERY: LINDSAY LOHAN "IN TALKS" TO PLAY VICTORIA GOTTI; BUDDIES UP WITH MOB MAVEN DURING PRESS CONFERENCE
Based on his high aspirations for Lindsay to star in two upcoming flicks, Marc has no reservations about hiring the troubled starlet. In one word: Fugghettaboutit. "She's been very professional with me," he said. "People make mistakes. Look at so many other people in Hollywood."