NEWS
'Project Runway All Stars' Recap: Let There Be (Black) Light With Pharrell Williams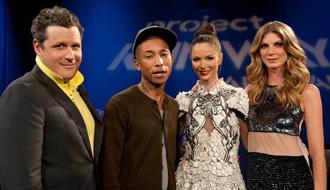 On this week's episode of Project Runway All Stars, there was… actually an interesting challenge! Super! Project Runway fans all over the world rejoiced.
Angela Lindvall walked out like she was waiting for someone to whistle. It was awkward. She snapped her fingers and black lights came on, illuminating the stripes in her skirt. That's not all that lights up, though — Austin Scarlett's face becomes like that of a child's at Disney World. We're not gonna lie, it was really cute. The designers are charged with creating an avant-garde look using lights. Angela announces that the guest judge is music producer Pharrell Williams, and from the way she says it, we're expecting him to walk out onto the runway, but he doesn't. He must be off with Madonna, Snoop Dogg, Janet Jackson, Britney Spears or Beyoncé (seriously Angela, name drop much?)
Article continues below advertisement
OK! NEWS: PROJECT RUNWAY ALL STARS RECAP: COUTURE CLASH WITH FLAGS OF THE UNITED NATIONS
The designers take her word for it and head off to Barbizon Lights and Special Effects Shop and Mood, where there are some interesting choices; Kenley Collins goes for an upholstery fabric that looks like a grid, and Michael Costello gets some hot pink felt.
If you Google "uses for felt," a variety of choices come up: the backs of picture frames, the bottoms of lamps, chalkboard erasers, Christmas stockings...and yet no mention of hot pink coat dresses, or even clothing at all. Michael says this choice is not in his comfort zone. We're pretty sure felt isn't in anyone's comfort zone, Michael. Because it's, you know, felt.
Sometime during the workroom festivities, Michael scraps his felt look and starts anew. Austin is creating a "galaxy of gorgeousity," Kenley is making her own plaid using the glow tape (which the designers begrudgingly confess to liking), Jerell is blending tribal and technology and Mondo is doing Mondo with lights. Also, the workroom now includes a special black light room. Bonus! Michael seems to spend the most time in there, and Mondo suggests that he is "playing seven minutes in heaven, by himself."
Article continues below advertisement
Joanna Coles gives everyone a little speech about how they are able to use their creativity in this challenge and advises them to embrace the technology aspect. What she was basically saying was "this is actually an interesting challenge, don't mess it up."
Austin is doubly motivated after talking to his mother on Skype. Bad news, she's losing her house due to financial constraints. Better news, his mom is really pretty and young-looking. We are further perplexed about Austin's true age, which we think might always be a great mystery.
OK! NEWS: PROJECT RUNWAY ALL STARS RECAP: FROM THE RUNWAY TO BROADWAY
On to the runway!
We were in agreement with Georgina Chapman and Isaac Mizrahi this week. And Pharell! Who is there, finally.
At the top:
The judges loved Austin's design. He was the only one that didn't use neons, opting instead for blue lights to carry out his starry night vision. The judges wished he layered the lights in the black tulle a bit more, and we agree. Still, his was easily the most dramatic of the looks, with its big ball gown skirt and swooping structure that encircled the head.
Article continues below advertisement
They also dug Kenley's plaid print. She again used a 1950s silhouette, but the judges have either given up that fight or were distracted by all the lights. Still, we liked Kenley's look, and agreed that the proportions were perfect. She managed to give us volume on the top and bottom, but she nipped in the waist so tight that the model looked like an exaggerated, illuminated hour glass. The upholstery fabric was used for a jacket, and she strung tiny lights through it, which we didn't mind but Pharell thought were too hastily placed.
Mondo's look was cool, hip and fun. Perfectly Mondo, but not quite as interesting (to us, anyway) as Austin's and Kenley's. He landed in the top because the look was not worthy of being in the bottom, and there's no more middle.
In the bottom:
Jerell had a good thing going. His fiber-optic lights looked feathery and light, the structure he built was interesting, but then…he added a grandma-like, ankle-length black skirt underneath it all. It was horrible. We're not convinced that Jerell didn't deliberately sabotage himself. Oh, spoiler alert: Jerell is out.
Michael made a creepy, glow-in-the-dark ninja. She was ready to kick some a**. Probably Michael's a**, because even though we're sure she has an itty bitty waist, Michael made her look boxy.
WINNER: Austin (his look will be worn by one of Pharell's superstar clients)
OUT: Jerell
We're down to the final four! What did you think of the lights challenge?