NEWS
'Project Runway All Stars' Recap: From the Runway to Broadway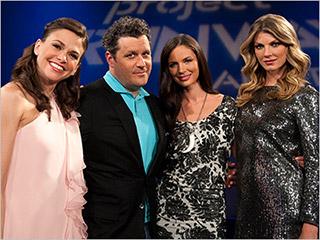 This week, the all-stars were tasked with making outfits for a Godspell character that is described as "ostentatious" and who steals from "everyone" and loves to show off her riches. The designers are required to make separates, because the outfit, presumably made up of various stolen pieces, will come together on stage.
Ok, people. We've got furs, we've got neon, we've got brocade… we've got lamé, we've got tulle… we've got it all, it seems, except interesting interaction between the designers in the workroom. We suppose they are all really intent on getting their Broadway debut.
Article continues below advertisement
Luckily, Joanna Coles comes in and shakes things up a bit — during her consultation with Kara Janx, Joanna questions Kara's validity as an all-star, which obviously results in Kara crying in the confession room. We don't like seeing Kara so upset, but Joanna has a point.
Since nothing else interesting was happening during the work process, we got an extra-long flashback via Mondo Guerra to last week's episode. Then there's a little scuffle between Jerell  Scott and Austin Scarlett about who was using what sewing machine and when, but it's dropped. It's almost as if they staged it so we had something interesting to talk about. Thanks, guys!
OK! NEWS: PROJECT RUNWAY ALL STARS RECAP: FASHION, DRAMA AND THE FOUR SEASONS
The best line of the night came from Austin about Michael Costello's outfit: "It kind of looks like the mother of the bride." Later, Angela Lindvall would say of the same outfit, "It kinda reminds me of the Chiquita Banana woman."
On to the runway!
Jerell was the only one who was safe. His outfit was okay, but it looked like something Michelle Obama could wear with a few minor adjustments. Quick note: pretty much all the designers were right on target with styling this week. If it had been Project Stylist, the competiion would have been much stronger.
Article continues below advertisement
At the top:
Michael returns to the top, but just barely. Georgina Chapman says he relied too much on the funky headpiece he created to finish off the look, which was a fair assessment. Minus that headpiece, his chartreuse skirt and floral top are still fun, but too wearable. This is supposed to be a costume for a Broadway musical, Michael! Pump up the volume!
Austin also lands in the top. The look is indeed an improvement over last week, but how could it not be? Isaac Mizrahi thought his ensemble was too "young looking" but we actually thought that it looked old… did he or did he not include some kind of fur wrap? Also, why the leggings?
Article continues below advertisement
In the bottom:
Kenley Collins finally veered away from polka dots, and she probably won't again because she was tossed in the bottom three. We loved Kenley's red brocade jacket, and so did the judges. However, the other elements of the look weren't strong enough and didn't quite come together.
Mila Hermanovski is definitely losing it. Her model, clad in a white fake fur jacket and a neon green-and-yellow striped, asymmetrical skirt, looked like she was trying (and failing) to emulate the cast of Clueless. Guest judge Sutton Foster thinks it borders on looking like "someone who walks the streets" and it's adorable how obvious it is that she thinks that is the meanest thing someone could possibly say.
Kara almost made something interesting, and she was so excited to show the judges that she tied a great big bow around it like a present. That's the only explanation for that awful bow-belt thing. The red pencil skirt was the only surprising (in a good way) element of the outfit, and even that had a terrible crooked slit in the back. Isaac said it was her best work to date, but he didn't like it. We agree.
WINNER: Mondo!
Out: Kara. Now can we have Rami back?
What did you think, PR watchers? Was it just us, or was this episode the slowest yet? Is anyone else dying to see Joanna Coles' performance in an amateur production of Godspell? What a tease.