NEWS
'Project Runway All-Stars' Recap: Miss Piggy's Passion for Fashion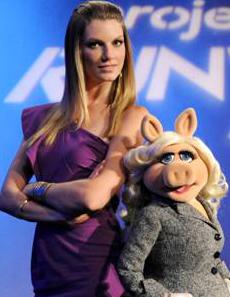 "We want you to create a flamboyant cocktail dress for one of the most famous fashionistas in the world… She's had everyone from Burberry to Prada design exclusively for her."
This is what Angela Lindvall told the designers when they gathered to hear this week's Project Runway All Stars challenge. Visions of Madonna, Lady Gaga and Cher strutted around in the designers' heads. Was the statement true? Yes. Cruel? Perhaps. Our all-stars then learned that their client was… none other than… Miss Piggy! Right. Not even a person.
Article continues below advertisement
"These judges are pulling the talent from our toenails," Anthony Williams said of the challenge. Right on, Anthony. And they're pulling these challenge concepts out of their — Anyway. Luckily, most of the designers seemed to find the fun in the challenge and really revel in it, which was great to watch no matter how you feel about porcine fashion.
A few of the designers talked about being extremely excited to "meet" Miss Piggy, including Michael Costello, who called her "fashion's dream client." We hope Michelle Williams didn't hear him say that.
Ok, let's get down to business. Our judges besides Miss Piggy and Angela are Georgina Chapman, founder and designer of Marchesa, and Eric Daman, a stylist for Gossip Girl, who filled in for Isaac Mizrahi.
OK! NEWS: PROJECT RUNWAY ALL STARS CHANGES ALL THE RULES
At the top: Kenley Collins made a perfectly cute, pink-and-white giraffe-print dress that was in line with her '40s pinup girl aesthetic. She topped things off with a giant pink loofah on her model's head. In a weird way, it balanced out the circle skirt of the dress. You have to remind yourself, this is for Miss Piggy. And for a movie premiere! It was probably smart to go a little over the top. The judges liked the look and feel of this dress, but weren't sure about the construction and fit of the top.
Article continues below advertisement
Rami Kashou: Sigh. If you weren't digging Rami's dress, don't despair. We weren't really feeling it, either. We weren't sure that he didn't use Wonder bread packaging to construct it. But again, it's for Miss Piggy. It was certainly a "Look at me!" dress. Rami is super-talented and we were relieved he landed in the top even though his dress was far from our favorite. The judges appreciated that he embraced the challenge so fully.
OK! LIFESTYLE: PROJECT RUNWAY ALL STARS HOST ANGELA LINDVALL TALKS STYLE WITH OK!
WINNER! Michael Costello, it was well deserved. Of the top three, Michael's dress best considered both Miss Piggy's personality and the glamour of a movie premiere. It was sparkly, sexy and embellished (the front structure actually looked a little heavy at times, but giving him the win was a good decision).
On the bottom: Mila Hermanovski. In the workroom, Mila said that she wanted to see Miss Piggy in a "'do a '60s mod thing" What a shock! Not. Mila would just as soon decide that she'd like to see George Washington do a '60s mod thing. We like a lot of what Mila makes, but it would be nice to see her use color once in a while, or just do something different. Like Kenley, Mila made a perfectly nice outfit (though maybe a tad too reminiscent of a football jersey). Unlike Kenley, it didn't scream, "Miss Piggy!"
Article continues below advertisement
Austin Scarlett won the opera challenge last week, so this must have been a bit of a bummer. There was really never any doubt that he was staying in the competition, though. He's Austin Scarlett! That said, Austin's was one of the weakest of the bunch. The judges didn't dig his pink and sad-gray color combo, and Miss Piggy fretted over whether or not the large bows on the hips would be conducive to hula-hooping.
OUT: Gordana Gehlhausen. In a surprise to no one, Gordana leaves us this week. Gordana seems like a really sweet lady, and we dig the roaring '20s flair she brings to some of her looks, but this just didn't work. It looked like Betty Draper's nightgown. If Betty Draper shopped at Joyce Leslie and just wanted to get some sleep that night.
Some gems from this week's episode: Kenley saying Miss Piggy "reminds me of myself." Too easy. Mondo's lollipop necklace. Gordana telling Joanna that she's noticed Miss Piggy has nice legs. You have?! When? Hopefully these designers were given a dossier.
Jerell Scott proclaiming that Miss Piggy's bacon was going to sizzle at the sight of his dress. The little exchanges between Miss Piggy and Eric Daman were actually pretty cute, both during the runway show and after.
What did you think of this week's episode? Did you like Miss Piggy as a guest judge? Do you think Michael deserved to win? Did the right person go home? Which look would you steal from Miss Piggy's closet? Sound off below!