NEWS
'Project Runway' Recap: Episode 10, I Get a Kick Out of Fashion, With Guest Judge Debra Messing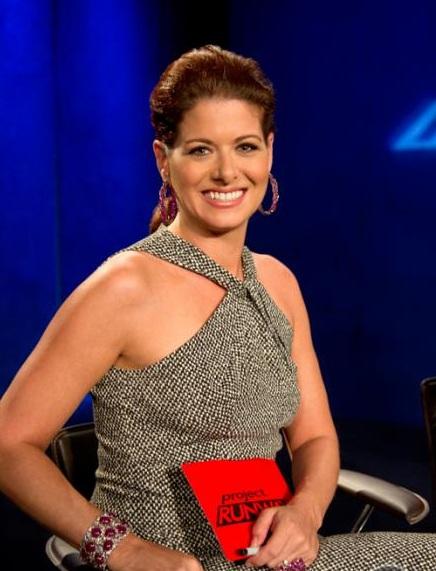 The designers are all struggling to wake up and get moving without their buddy Gunnar Deatherage. They won't have to struggle much longer though — they're soon inside Radio City Music Hall, where some, like Melissa Fleis, are especially impressed with the architecture, some, like Fabio Costa, with the glittering line of Rockettes that appear kicking on stage,  and some, like Dmitry Sholokhov, with the appearance of Heidi Klum moments later in the center of the line. "It is a surprise to see Heidi in her little green dress," Dmitry says. "And the way she moves… oh baby." Remind us to grow six inches and practice our high kicks, please. And then refer to us only as Origami Rose.
Article continues below advertisement
The designers are charged with creating a new costume for the Rockettes, which will be produced and worn by them in a future show. We have been looking forward to this episode ever since a photo came out of Heidi and Tim Gunn in line with the Rockettes. Tim Gunn, a Rockette?! It was super cute, and we ran it in an issue, and some of us might have cut it out and hung it up in our cubes. Anyway, the designers are told they need to make the look modern.
OK! GALLERY: HEIDI KLUM LOOKS SMASHING AS SHE TALKS ABOUT PROJECT RUNWAY ON GMA
The Mood trip proves frustrating for most. It turns out that quality sequins are very expensive. Elena Slivnyak ends up $150 over budget (of course, with her final design, we're not sure it was quality and not quantity that put her over the top). Tim, unimpressed with the designs when he comes to check in, eventually decides all the designers should go back to Mood and be given another $100. Whoa! That's a new one.
Article continues below advertisement
From the get-go, Dmitry, Ven Budhu and Fabio seem very comfortable with the challenge, so it is interesting that they ended up all across the board. These three are also the only ones who decide they are satisfied with what they bought, and they stay behind and work. Dmitry feels he has a (pardon the pun) leg up on the competition, because he used to be a professional ballroom dancer. Apparently he started at age 6. 6! Pictures, please. Ven decides to get out of the garden and make something that doesn't involve a flower. Good thinking, Ven. And Fabio has one of the best exchanges with Tim ever. Thank you, Fabio, for prompting Tim Gunn to say the words, "Bitch-slap that bitch." You know if this show was still on Bravo, that phrase would become re-mixed in a video and be repeated over and over again. Please, someone, get on that.
Honestly when Christopher Palu said his design would incorporate the NYC Skyline, we thought he was going to make it so that when the dancers stood next to each other, it would create the skyline, so they each get a piece of it. Were we the only ones? That would be cool, too, but it would not really show well on the runway. This was a really great idea on Chris' part. It appeals to the whole magic of NYC thing that people occasionally like to cling to, ourselves included.
Article continues below advertisement
The designers get a reprieve from the competition when they are treated to an early dismissal and a nice dinner. Here, Elena apologizes to Dmitry for acting like a terrible human being. He accepts her apology. Then Ven starts talking about his childhood. "Even Ven is opening up," Dmitry said. "I think it's wine. Wine is working." We feel kind of bad for Ven, who talks about his much-older siblings and being alone as a kid. We picture a mini Ven locked in his bedroom surrounded by construction paper making origami roses and listening to classical music.
Side note: It's nice that Elena recognizes her less-than-awesome behavior this season. She's had moments where we like her but also moments where we just could not understand how she was in the lead for Fan Favorite, and by so much! It turns out that Elena pledged part of the prize money to the World Wildlife Fund, who is in turn promoting her and encouraging people to vote for her. Honorable cause, certainly, but it does kinda take the fun out of Fan Favorite for... you know... the fans. If you have been voting, let us know what you think about this!
Article continues below advertisement
On to the runway, with guest judge, Smash star Debra Messing.
Fabio is declared safe. We weren't huge fans of his costume, particularly the top… the gray looked thick, or something. Still, there were both better and worse designs. And we liked that you could tell it was Fabio's.
Dmitry and Christopher are really the only ones in contention for this win. Heidi loves Dmitry's look but she tries to fake him out with a blank stare first. Oh, Heidi. Michael Kors says, "You didn't get lost in the challenge." It's true, this looks like Dmitry and yet it's still a more-than-awesome, modern costume for the Rockettes. He was, once again, our favorite. We especially loved the skirt with the fringe, it reminded us of what he did in the candy challenge.
Article continues below advertisement
Everyone goes nuts for Christopher's skyline dress. We like it too, and we love how he styled it, very 20s with the red lip and the fingerwave. He pitches it with a big fat kiss for New York City. "I feel that so many people come here to make it. It's a celebration of New York City." Well, how are they supposed to not want to celebrate New York City? It was a great design, and a great idea, don't get us wrong. But as Nina Garcia points out, the skirt has no movement. And where is Christopher in this? Couldn't this have been made by anyone who had the idea?
Even Melissa's costume, though by no means deserving of the win, looked more like it came from her, and we appreciated that. We liked the neckline, the color-blocking, and the colors, and the cigarette-girl styling. But Melissa somehow color-blocked a big number 1 on the front without noticing, and it was very stiff. She's technically in the top, but Nina calls it "a real miss." PS, It was super cute how everyone helped her finish it (18 pieces?!) and Chris gave her $50. We're a little misty-eyed.
Article continues below advertisement
On the bottom: We love Sonjia, but man. This look just did not work. That skirt looked like a bad Halloween wig. Heidi says it's too boxy and not exciting or sexy enough. Nina says it's not practical because feathers are so fragile. Debra and Heidi discuss the pitfalls of feathered gowns. #richpeopleproblems.
Elena's is, in our opinion, the worst. She was right about it looking like a band uniform. Tim even sarcastically suggested she look for a baton on the Lord and Taylor accessory wall. Michael is aghast, and as PR alum Mila Hermanovski pointed out on Twitter, ironically without his trademark sunglasses. "It's tacky… it's like you just never stopped… she looks like a Las Vegas cheerleader." Elena cries and says she was trying to get out of her box and use more colors, or something.
And then there's Ven's dress, with his interesting material choice and blah design. Tim suggested he leave some overlay but he didn't listen, he should have. Debra points out that the hem is messy (But apparently also said it was her second favorite? We have to watch the extended judging.) Michael fills Debra in on Ven's flower problem. "Origami Rose could be his drag name," he says. We almost spit out our Cheez-Its and red wine.
Article continues below advertisement