NEWS
Protesters Tell Maura Kelly to "Kiss My Rolls" Outside 'Marie Claire' Offices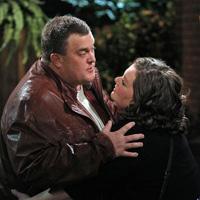 Marie Claire columnist Maura Kelly has been under fire this past week for her blog post entitled "Should Fatties Get a Room? (Even on TV?)" and the attacks haven't slowed down.
OK! NEWS: KATIE HOLMES TALKS HOME LIFE WITH TOM & SURI
Maura suggested in her post that she didn't want to watch overweight people kiss on the new TV show Mike and Molly.
Since the post went live on Oct. 25, readers have been critical of Maura's comments causing her to apologize.
Article continues below advertisement
"I would really like to apologize for the insensitive things I've said in this post, she began in a lengthy letter to readers. "Believe it or not, I never wanted anyone to feel bullied or ashamed after reading this, and I sorely regret that it upset people so much. A lot of what I said was unnecessary. It wasn't productive, either."
OK! NEWS: BLAKE LIVELY — "I DON'T WANT TO PLAY IT SAFE"
But Maura's apology hasn't stopped the hate towards her comments and about 30 protesters have gathered outside the Marie Claire office building in Manhattan, The Wall Street Journal's Speakeasy reports.
Protesters handed out Hershey kisses and carried signs saying, "Kiss My Rolls," "You Can't Hate People for Their Own Good" and "Love Comes in All Sizes." The protesters also reportedly sang songs such as "What the World Needs Now is Love" and "We Are the Fatties" to the tune of "We Are the Champions."
And to really show Maura and her fellow employees, they gave each other hugs and kisses.
Article continues below advertisement
According to Speakeasy, the protest came about from activists in the fat acceptance movement. Photographer and director of "Adipositivity Project" in New York, Substantia Jones, said the protest was coordinated through Facebook and Twitter and would also take place in Philadelphia and San Francisco.
"I can't be that mad at Maura Kelly because I feel sorry for her," Jones said. "But Marie Claire needs to know 'you are responsible for what you're publishing.'"
Director of the upcoming documentary Fat Girls Float, Kira Nerusskaya, said "Marie Claire's editors were embracing plus-size readers, and then they turned around and kicked them in the teeth."
And as for the protesters, Nerusskaya said, "We're not drunks or heroin addicts, we're just fat. We could all stand to have more love."
Mike and Molly star, Bill Gardell spoke out about the post on CBS' The Talk.
Watch his response below!