NEWS
The "R" List: Could 'Bridge and Tunnel' Challenge 'Jersey Shore'?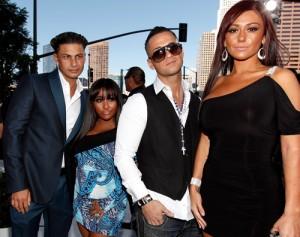 Follow The Apprentice alum Jenn Hoffman, reality star turned-reality reporter on her adventures in Hollywood. She'll dish on all the gossip, rumors, events, sightings and other craziness in the reality TV world. Forget the A-list — this is all about the R(eality)- list!
Move over, Jersey Shore! That's what the cast of a new reality TV show pilot wants.
Bridge and Tunnel is an explosive and funny docu-soap about a group of loud crazy Staten Island characters that was pitched and piloted over at MTV before Jersey Shore even hit the air. Insiders say that while MTV liked the pilot, it was shot down after execs decided to go with NJ over NY. So why do we care about a pilot that never saw any air time?
Article continues below advertisement
Perez Hilton posted a clip of the show online last week and interest in the show exploded, resulting in a viral movement to find the show a home. According to viewers, Snooki and The Situation are nothing compared to the Shaolin. I spoke with a source close to the show and they said the cast is already receiving hundreds of fan emails and phone calls, along with offers for representation.
OK! BLOG: THE "R" LIST: PARIS; RICK FOX & STACY KEIBLER DISH ON DWTS
Speaking of The Situation, it seems he has been hitting the L.A. party scene pretty hardcore. Mike Sorrentino was spotted at The h.wood Group's tea room in Hollywood last week celebrating his performance on Dancing With the Stars. Should he be out boozing it up or spending more time practicing his moves? The DWTS eliminations next week will tell.
New show alert! Donald Trump is searching for family owned businesses for his new show Keep it In the Family. Each episode follows a real-life family who tries to convince their adult child to come back home and take over the family business. Will parents be forced to fire their own children on national TV Now that is something I'd watch.
Article continues below advertisement
Speaking of something I'd watch... Would you watch a female version of the TV show Jackass? There are rumbles that a L.A.-based production company is looking for the world's craziest women to create an estrogen packed version of the famous stunt show. They are seeking stunt-women, skaters, roller derby teams and girls who are "just plain out of their minds." Thrill seekers can follow @GetSomeMedia on Twitter for more details.
OK! VIDEO: SNOOKI MAKES CAMEO IN IPAD APP SPOOF
Last night Sharon and Kelly Osbourne hit the red carpet at the new Fendi store in L.A. The duo posed for pictures, took one lap around the store, and promptly exited the premises. I wonder how much free Fendi they received for a five minute appearance. Probably lots.
That's your Friday R-List round up! Keep it real!
Jenn