NEWS
The "R" List: 'Real Housewives of Beverly Hills' Drama Begins!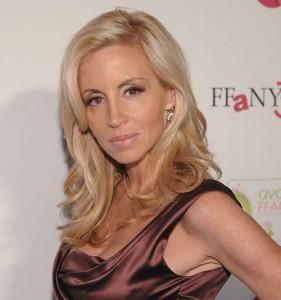 Follow The Apprentice alum Jenn Hoffman, reality star turned-reality reporter on her adventures in Hollywood. She'll dish on all the gossip, rumors, events, sightings and other craziness in the reality TV world. Forget the A-list — this is all about the R(eality)- list!
We're only a few episodes into the inaugural season of Real Housewives of Beverly Hills – and there is already behind-the-scenes drama. While most of the ladies are embracing their on screen portrayal one cast mate is very unhappy. I caught up with Camille Grammer at the Tangled movie premiere and she gave me an earful about her dissatisfaction with the show.
Article continues below advertisement
Camille thinks the producers are not being fair with her portrayal and told me:
"I'm very disappointed in my character. They've turned me into a villain and I'm not like that. It's not me. I can't even watch myself. I don't know why they the producers are doing that. I guess they needed that character."
OK! BLOG: THE "R" LIST — REALITY BASH 2010 APPROACHES!
Castmate Lisa Vanderpump disagrees with the idea that the show inaccurately captures their characters. Recently at the IN ADD MINUS launch party in L.A., Lisa said "Personally, I feel that the show is very accurate. They shoot enough footage that they're going to really portray you how you really are."
When I asked if she actually likes her portrayal Lisa mused, "Have I said things I regret? Sure. If a camera crew were following you for four months would you have moments? I'm sure you would have moments of regret."
OK! BLOG: THE "R" LIST — KARINA SMIRNOFF DISHES ON DWTS
Actually a camera crew DID follow me around for months while filming The Apprentice, so I can relate. Personally I don't regret anything I said, I just wish I said MORE. If I did reality TV over again I'd be even louder, crazier and more opinionated then I was before. Camille might be upset that she looks like the "villain" on RHOBH, but I can promise her one thing: When it comes to reality TV, being the villain is better than being the bore.
Article continues below advertisement
OK! BLOG: THE "R" LIST — CELEBRITY APPRENTICE — ALL A BIG SET-UP?
Adrienne Maloof seems to have the right idea when it comes to reality TV stardom and is already planning her next moves. I bumped into her last week and she told me about her future plans. "If I had to be live any of the other housewives it would be Bethenny from NY. I think I would like to be also be inspiring to young women that want to go into business. If something spins off after that that would be fantastic."
Well Bethenny has an empire now including a cookbook, a line of "Skinny Girl" margarita mixes and her television own show so that would be nice. For all of us.
Keep it real!
Jenn
Follow me at @jennhoffman on Twitter!