NEWS
Rabbi Shmuley Says He Can't Help Kate Gosselin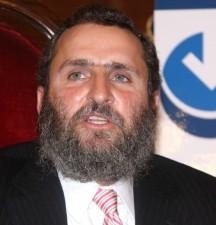 Celebrity spiritual adviser rabbi Shmuley Boteach can only handle one Gosselin at a time, so Kate Gosselin is out of luck. "I'm not up to that yet," Shmuley told PopEater after his public confession with with Jon Gosselin. "Right now I can only focus on Jon."
In Jon's public confessional with Shmuley on Saturday night in NYC, he admitted to behaving badly in the past few months. "Half the stuff I've done, if I look at my moral compass, I shouldn't have done," Jon explained to Shmuley.
Article continues below advertisement
"I'm working on Jon's moral development," Shmuley told PopEater. "Jon was once a good husband and father and somewhere along the line that changed and I am helping him to return to his former self."
Shmuley wants to clarify that he is Jon's spiritual advisor — not mentor. He was also the spiritual adviser to Michael Jackson.
Jon and Shmuley meet for a few minutes a day and sometimes more, but Jon is also working with a local pastor.
CLICK HERE FOR ALL OF OK!'S JON GOSSELIN NEWS AND PICS!
While Jon made his public confession with Shmuley, Kate made her own by way of Natalie Morales on Today.
"It's hard to comment on an apology designed not to help the healing in a divorce but instead designed to manipulate us and what we think of them," radio host Cooper Lawrence said of Kate's apologies. "It's meaningless and not only have we seen it before, we've seen it done much better."
Now that both Jon and Kate are starting to apologize, should we believe it?
"We all want to change," Shmuley said about Jon's remorse. "But at the end of the day words are not as important as actions. We should judge him by his actions."
Shmuley also added that all change takes time — especially when Twitter is involved!