NEWS
Rachel & Josh: Casual Sexy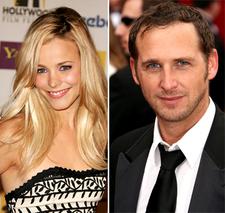 After three months together, Rachel McAdams and Josh Lucas are taking a more relaxed approach to romance.
The couple, who have been bouncing between both coasts and Canada, are now cooling their heels in L.A. On March 23, they headed to Hal's Bar & Grill in Venice Beach, where they mingled with a crowd of basketball fans.
"Josh asked to be seated at the bar to watch the Boston Celtics game," an eyewitness tells OK!. "Then they graciously waited for a spot to open up."
Article continues below advertisement
After ordering a veggie platter and artichoke dip to split, Josh, 36, who has been in past relationships with both Salma Hayek and Heather Graham, sipped a beer while explaining the action on the court to Rachel, 30, who previously dated her Notebook co-star Ryan Gosling.
Adds the source, "They were so cute!"