NEWS
Rachel McAdams Reacts to "Feminist Icon" Ryan Gosling: "Oh My God, That's Great!"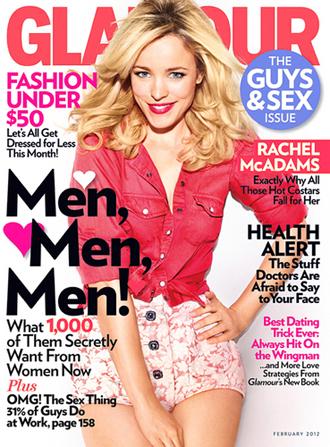 We'll never be able to separate Rachel McAdams from The Notebook... or Ryan Gosling. But it sounds like Rachel doesn't mind that! In the new issue of Glamour magazine, Rachel discusses dating co-stars, working on romantic comedies and even Ryan himself!
The Midnight in Paris star admits she's dated some of her co-stars, but says the romance didn't start on set.
OK! GALLERY: RACHEL MCADAMS SHINES IN WHITE AT MIDNIGHT IN PARIS NYC SCREENING
Article continues below advertisement
"A set may seem like a good place for romance, but I don't think it's very conducive; it's too distracting," Rachel tells Glamour. "Every relationship I've had with a co-worker has come after the fact, because you wind up actually spending a lot of time with those people promoting the movie."
And her most famous relationship with a co-star was with her Notebook lover Ryan, whom she dated on and off from 2005 to 2008.
Rachel stays away from the press, but she was excited to learn her ex is now a huge feminist icon.
"Feminist icon? Wow! Is that real?" she asked.
It's true. Rachel has been missing on blogs like Feminist Ryan Gosling and Hey Girl.
"Oh my God, that's great," she admitted.
OK! NEWS: THE NOTEBOOK IS HEADING TO BROADWAY!
Next up for Rachel in the romance department is starring alongside Channing Tatum in The Vow. While fans may watch the trailer and think it could be their next Notebook, Rachel didn't see the connection.
According to Glamour however, Rachel and Channing do have "wonderful chemistry" in the film.
"I was worried we might not, because we were more like brother and sister, like buds," she explained. "Channing is very outgoing, very kind and a lot of fun to work with."
But don't worry about Rachel falling for Channing — he's married!