NEWS
Rachel Uchitel Relocates to Vegas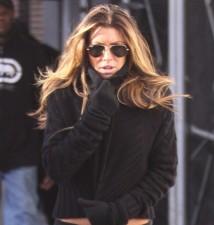 While Tiger Woods has been attempting to regain his composure after news broke of his multiple affairs, his first alleged mistress Rachel Uchitel is also trying to bury the hatchet and move on by relocating to Las Vegas.
"I moved to Vegas with my dogs. I bought an apartment there and I have family there," Rachel told OK! at Perez Hilton's Birthday Carn-evil event on Saturday night.
Article continues below advertisement
And the socialite claims that she has moved to get away from the chaos of her scandal with the pro-golfer.
"I moved to have my own life. I haven't gone out once in Vegas. I take guitar lessons, I go to dance class, and I have friends there," Rachel gushed in L.A.
WOMAN WHO BLABBED ON TIGER WOODS WANTS TO SUE RACHEL UCHITEL
But while the former nightclub manager refused to comment on Tiger's publically aired apology, she validated her reason for staying mum. "Put yourself in my shoes," Rachel explained to reporters.
In the meantime, Tiger, who is trying to mend his marriage with wife Elin Nordegren, is expected to return to golf for the Masters Tournament in April.