NEWS
Rachelle Lefevre Tweets Apology for Missing 'New Moon' Premiere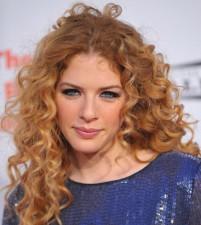 The star-studded New Moon premiere in L.A. went swimmingly last night, but true Twi-hards knew someone was missing. Rachelle Lefevre, who plays Victoria, did not make the U.S. release of the second installment of the Twilight Saga, turning to her Twitter page to apologize: "2 fans at the premiere: w/ Honey in hospital & being fired from Eclipse tonight was just 2 emotional 4 me & I couldn't manage it. So sorry."
Article continues below advertisement
Honey is Rachelle's dog who she adopted from and animal rescue agency. The pup inspired Rachelle to become involved with animal rights causes — she is the spokeswoman for the Best Friends' Puppies Aren't Products campaign.

Rachelle also turned to her Twitter after being let go from Eclipse, telling Extra she was absolutely blown away from fan support.
"I remember opening up my Twitter… somehow in 140 characters my fans managed to write me things that were so unbelievable," Rachelle told Extra after being cut in September.
"I'm very, very excited," she said of New Moon. "They wrote a lot of fun stuff for me from Twilight to New Moon. In the book, Victoria is not that present and they really did their best. Melissa Rosenberg, our screenwriter, told me that she loved writing Victoria and there was great room for that. So she wrote a lot of stuff for me. I really hope it makes it into the film. You never know, because I haven't seen it."