NEWS
Ralph Macchio Goes Home on 'Dancing With the Stars'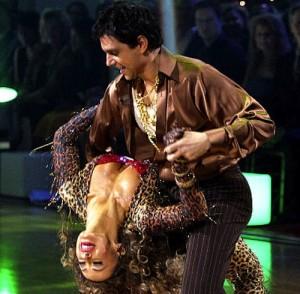 They came, they saw, they foxtrotted. Last night it was time to bid adieu to the dancing duo of Ralph Macchio and Karina Smirnoff on Dancing With the Stars. Although it was technically the end of their quest for the mirror ball trophy, they agree that technically it's the beginning of a friendship!
OK! VIDEO: WATCH RALPH MACCHIO RISE ABOVE HIS INJURIES ON DANCING WITH THE STARS
After the show Karina told OK! there were plenty of moments she wishes the audience would have been able to watch. Namely, rehearsals! "I wish there was a reality show just off our rehearsals! He would go into this whole Robert De Niro thing. We were hysterical."
Article continues below advertisement
Plus, Ralph says it was great. "We laughed non-stop. This relationship it's the beginning of our friendship and our families friendship together, not the end of the road."
OK! VIDEO: WATCH CHELSEA KANE'S PERFECT 10 RUMBA ON DANCING WITH THE STARS
However, as for the end of the road on the show, Ralph felt going into last night's elimination episode that he was going to be saying adios pretty soon. "I just didn't feel with the fan bases everyone had with the extra 15 points that Chelsea and Hines gained, and the deficit we were put at by the judges, I wasn't sure that even the biggest fan base out there could over come that. So I was ready for it."
In fact, he also told OK! the judges comments on Monday night were "rude and disrespectful." Karina added, "They said everything except the actual words, 'We don't want you in the final,' you know?" Karina thinks the fact that Chelsea's on the show and "she's young, vibrant, comes from Disney which is the same family," Hines is also a great performer and "the judges drool."
OK! EXCLUSIVE GALLERY: BEHIND THE SCENES OF DANCING WITH THE STARS — WEEK 9!
All in all though, Karina felt it's a TV show and "fair and unfair doesn't matter." She added, "We had something that was just given to us when we were casted and it worked perfectly since day one. With or without the final or mirror ball trophy we had something bigger than this."
Reporting by Amanda Champagne