NEWS
'Real Housewives of New Jersey' Clip: Caroline Manzo "Never Had a Friendship" With Teresa Giudice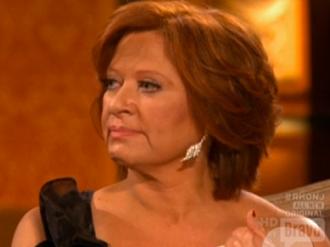 Caroline Manzo was very emotional on the second half of The Real Housewives of New Jersey reunion which aired Sunday on Bravo.
The matriarch of the Manzo family opened up about the importance of family, and for the first time addressed the current rift between her and younger sister Dina Manzo.
"Right now, I'm not talking to Dina. Dina's not talking to me … it's been a few months," Caroline explained on the set of the hit Bravo show. "It became ugly. We argued a lot. She claims that I never supported her and Teresa is a big part of it."
Article continues below advertisement
OK! NEWS: REAL HOUSEWIVES OF NEW JERSEY CLIP: CAROLINE MANZO WANTS TERESA GIUDICE OUT OF HER LIFE
But Teresa Giudice fired back that she has "nothing" to do with the distance between sisters.
"I'm here. I'm being honest. I'm being real. Bring it on," Teresa said. "She Dina doesn't want to see you."
Caroline wasn't going to let Teresa off the hook that easily.
"I have emails that I'm willing to pull up that said, 'Teresa tells me everything,' " said Caroline. "Jacqueline has emails and text messages."
Caroline added that no matter what her and Dina are family and will hopefully work through their issues.
"If she has to hate me for a while, than hate me. But I'm not going to hate back," Caroline said.
Caroline also held nothing back when it came to revealing her feelings for Teresa.
"I cry about my family. I'm crying because Jacqueline's not here," adding, as she gestured to Teresa, "We never had a friendship. We had an acquaintance."
Teresa's responded: "After ten years? See how people turn like that? Beware."
On Part 1 of the drama-filled reunion special, Caroline lashed out at Teresa for sabotaging their friendship.
OK! NEWS: 'THE REAL HOUSEWIVES OF NEW JERSEY' REUNION PREVIEW VIDEO!
"I should take my own advice and my advice two years ago was to get you out of my life and I'm finally taking it," she said.
Do you think these ladies will every end their feud? Sound off below.