NEWS
'Real Housewives of New Jersey' Clip: Melissa Gorga Goes 'On Display'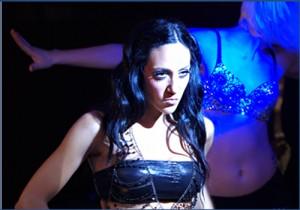 Article continues below advertisement
She donned leather and chains for the occasion. Melissa's dancing and stage skills were very professional. As far as the vocals, catch the clip below to hear for yourself!
"Melissa did wonderful," her proud hubby Joe Gorga gushed. "It was like a little baby that started walking. She did amazing. I'm so proud of her."
Afterwards, in a surprising twist, the usually grumpy Joe Guidice was the one to lead a toast for his sister-in-law.
"I have to say one thing about Melissa," he began. "Melissa went out there and did what she did and not too many people could do that. And that's the truth. I couldn't do it."
Teresa Guidice — who is often in competition with Melissa for her brother's affections — was so proud that her husband took the initiative to congratulate Melissa and celebrate in her success.
"I'm looking at my husband as he is making this toast and I'm just thinking who knows, maybe this will be a fresh start for us," she told the cameras.
Watch Melissa's performance, via Bravo, below!