NEWS
'Real Housewives of NYC' Recap: Who Is Harry Dubin?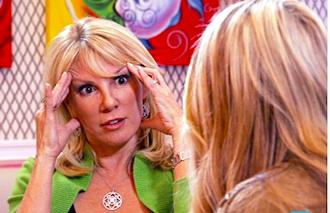 The faux-sophisticated, snazzy drivel of New York City's finest made its return appearance on Bravo last night for the second installment of The Real Housewives of New York City. As half the cast is brand new, we got a more intimate look at our Housewife newbies, as well as who they've been intimate with (but more on that later).
OK! NEWS: REAL HOUSEWIVES OF NEW YORK RECAP — OH, RAMONA!
First things first: Who the hell is Harry Dubin? In the first episode, we're treated to a grainy flashback of a loud man at one of Sonja's parties and a brief snippet of new housewife Aviva telling the camera he's her ex-husband and sneering about "too much partying." LuAnn smiled when she told Aviva she and Harry "got drinks" and Sonja described him as a "best friend." Uh huh. Friend, eh?
Article continues below advertisement
Well, last night at a cozy double date with Aviva and husband Reid and new housewife Heather and her hubby, Heather let it slip that, yes, Harry's slept with both Lu and Sonja.
Awkward.
We're starting to think Aviva was only hired so Andy Cohen could watch her squirm as the other ladies compare notes on her ex-husband's boudoir style. There will be much more where this came from.
Speaking of squirming, we watched a pointless fight ensue between LuAnn and Ramona. LuAnn accused Ramona of spying on her children in the Hamptons, Ramona accused Lu of being a lying braggard, denying entire conversations even took place, which infuriated Lu, forching her to call Ramona a "bully." It was uncomfortable for a viewer (and not in a fun way), but in true Housewife style both ladies air kissed and wished each other "nothing but the best" while they floated to their next engagement.
All's well that ends well?
OK! NEWS: REAL HOUSEWIVES OF NYC PREVIEW — WHO ARE THE NEW LADIES?
Meanwhile, new housewife Carole is in some sort of quasi-relationship with a guitarist for Aerosmith who's apparently allowed to screw around while on tour. Carole is breezy and cool, saying she doesn't "keep up" with things like monogamy and "we're both adults" and so on and so forth, and all she wants is "honesty and integrity." Cut to her hopping in Mr. Cool Musician's car for a spin in midtown and few prying questions dressed in girlish giggles about "girls" and "groupies." We see you, Carole — don't try to cover it up.
MORE ON:
Real Housewives of NYC
Article continues below advertisement
Sonja was Sonja last night, hitting on a good-natured repairman who've been hired to fix-up her post-hurricane addled home. Said repairmen looked a little trepiditious, but you can't blame Sonja for wanting a cheap thrill with a toolbelt. It's a lonely life all alone in her drafty mansion on the Upper East Side. Meanwhile, she was hired to host a GLAAD event where she missed her cue, drank a bunch of wine and seemed most interested in dancing with drag queens. Oh, Sonj — don't change.
Highlight of the night? Ramona geniunely perplexed at what the T is in LGBT.
"Transgender, Ramona," said a patient Carole.
"Trans-what?"