NEWS
'The Real Housewives of NYC' Premiere is Delayed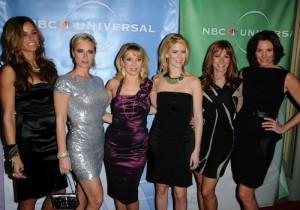 Calling all housewives fans! The wait must continue as Bravo decided to abruptly postpone the February 15 launch of the fourth season of The Real Housewives of New York City until at least March or April. In this surprising move, the housewives were just as stunned as their fans!
OK! VIDEO: FIRST LOOK AT THE REAL HOUSEWIVES OF MIAMI
Bravo executive producer, Andy Cohen, issued an internal memo marked "URGENT." This memo stated RHONYC was going to be delayed until the spring to give the network "more time to make the show as GREAT and as big a hit as possible," reports The Daily News. He apologized "for the inconvenience" and oh yeah, mentioned a new city will debut instead!
Article continues below advertisement
OK! NEWS: KIM RICHARDS' REHAB — SISTER KYLE BLOGS REAL HOUSEWIVES FINALE EXPLANATION
The Real Housewives of Miami will debut on February 22. Although speculation is already beginning since The Real Housewives of Beverly Hills was a mega hit (according to The Daily News, it had the second-highest rated first season of the housewives franchise; New Jersey was number one), sources have indicated the network "thinks Miami is more like Beverly Hills" and perhaps fans from BH will "piggyback" onto the new installment.
OK! NEWS: THE REAL HOUSEWIVES OF BEVERLY HILLS RECAP
In a statement Andy notes, "We have an embarrassment of riches." The Real Housewives of New York City will be "well worth the wait." He also points out the Miami series is "hot, hot, hot. Heaven knows we could use a bit of heat on the East coast right about now."