NEWS
Real Housewives of NYC Spill on New Season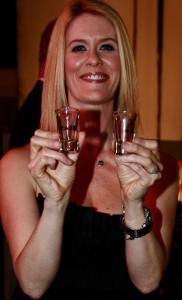 When Alex McCord, Simon Van Kempen and Countess LuAnn De Lesseps turn up to auction off Watch What Happens: Live host Andy Cohen during the Bailey House auction at NYC's Lexington Avenue Armory, they promise he'll deliver all the scoop on the Real Housewives franchise during a date at one of the city's top restaurants.
But the reality stars offer up their own dish on the NYC version, which is expected to debut next month.
Article continues below advertisement
The three reality stars offer a preview of what winner Melissa Cookman can anticipate. (The presence of Andy's company fetches $7,200 for the HIV/AIDS charity.)
"For people who are fans of Housewives, he knows everything about all of them," Alex tells me. "Andy knows where all the bodies are buried."
Simon adds, "He sees all the rough cuts, before they get polished up."
Despite the lack of appearances by Bethenny Frankel, viewers won't be disappointed in Real Housewives of NYC.
"This is far and away our best season yet," Alex says. "When you do a show with the same group of women over four years, you go in deep. It's like peeling an onion. You get in deeper and deeper every season, and it's far and away the best yet."
Simon continues, "NYC is unique. You still have four from season one, so LuAnn, Jill, Ramona and Alex have been there now for four years. Whereas in season one they all clashed superficially at times, now it's no longer superficial. Everyone knows where their buttons are."
Article continues below advertisement
Alex chimes in, "And pushes them all the time."
Simon says, "You'll see certain characters redeem themselves and have a renewal this season over last season, and we'll have to see if that pays off for them or not."
When it comes to swapping Housewives with the other franchises including Beverly Hills, Miami, New Jersey, Orange County, Atlanta and D.C., Alex gets territorial.
"I think you need to have a New Yorker," she tells me. "If we have other people join the cast, they have to be other New Yorkers. You need to live here to experience it."
But the couple, who are parents to sons Francois, 7, and Johan, 5, admit they don't watch television.
"When you add a reality show to everything else you do in life, something's gotta give, and TV and movies are what gives," Alex says.
Here comes Countess LuAnn De Lesseps, who offers up a few spoilers.
"There's definitely battles between blondes and brunettes," she says. "You'll have to watch and see that one. Who do you think will win?"
Article continues below advertisement
But that's not all.
"Well, I'm singing with a major icon in the music business," she says. "That's cool. Oh, I'm not telling you who the icon is, but she's major. It's somebody like Liza … or Liza."
Hm, anything else?
"Well, we got to travel to Morocco this year, so that's looking up. We all rode camels, but I'm not going to tell you who was thrown off."
Ooh, are they taking a page from the Razzie award-winning movie Sex And The City 2?
"We're not copying anything," she says. "I mean, I've been to Morocco many times before with my ex. It's a wonderful place. It's one of the most amazing places. It's Africa and Europe mixed together. It's a great experience to meet with all the women there, and we had this fabulous house. Can you imagine several women under one roof, the Housewives of New York? Oh my God. A lot of drama."
Unlike Alex, the Countess keeps up with other shows in the franchise – and can't get enough of Miami.
Article continues below advertisement
"I like that Leah," she says. "She seems like she's got it together. She's the queen bee of the situation over there. She seems the most interesting to me. And I like the little Latin one who found out her husband has another family in Brazil. laughs That was pretty bad. I felt sorry for them."
Last question: Is Andy Cohen single?
"I guess!" the Countess yuks. "I don't really know his status on Facebook. I guess I should check."
Andy donates his time to help Bailey House, a non-profit organization that helps New Yorkers living with HIV/AIDS.