NEWS
OK! Exclusive: Real Housewives Of New York's Dorinda Medley Talks RHONY Feuds And Who She Clashed With!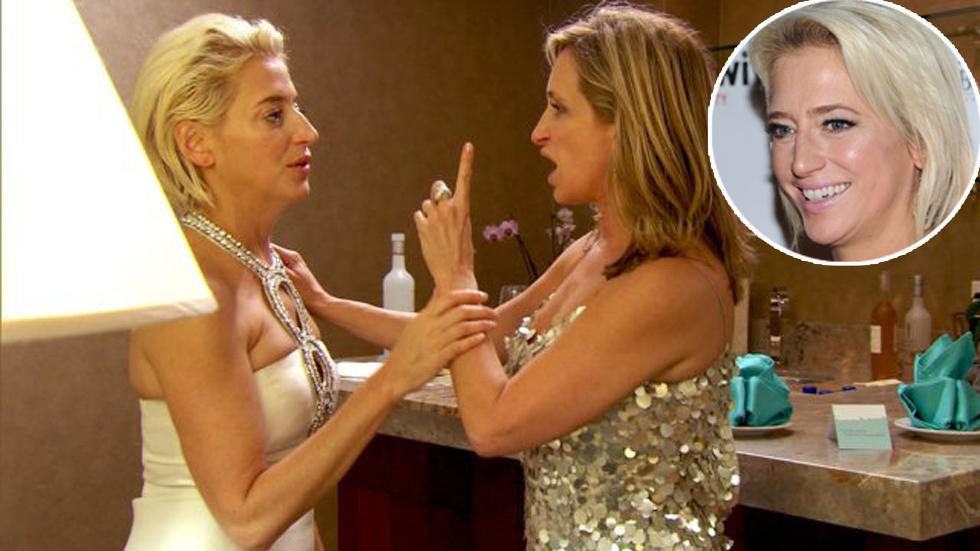 The ladies of Real Housewives of New York are finally reunited and though we're only two weeks into the drama of season 7, we can already see the tension building! Dorinda Medley spoke to OKMagazine.com exclusively last week about how her "honest" and "fun" personality fits into the group, but now the newest addition to RHONY dished to OK! about the best part—the drama! Read on to find out all about her alleged fight with Ramona Singer, which housewife she clashed with and what she thinks of Bethenny Frankel!
Article continues below advertisement
Read Part One of the interview with Dorinda here!
OK!: What's the one trait that makes you unique to this group?
Dorinda: "I think I acted throughout the season as a bit of a mediator, to tell you the truth. Yeah, so one was fighting, I tried to get their side of the story and try to bring them together. 'Maybe she's saying that.' I didn't think I'd end up playing that role but I found myself in many situations sort of playing that role."
OK!: There are all these reports out there that you and Ramona, who you are friends with, had drama after you joined Housewives. How are you guys today?
Dorinda: "I don't even know where that came from to tell you the truth. We had some laughs about it. There really wasn't. We laughed one night when we were out to dinner. I said, 'Hey I heard you hate me.' She said, 'We're screaming and yelling at each other.' I said, 'Let's get a photograph.' We were like dumbfounded.
Article continues below advertisement
PHOTOS: 20 Real Housewives That Got Divorced
I think I'm closer to Ramona than ever. You're even going to see that during the show. More than drama, I think everybody, not just Ramona, was surprised how quickly I took to it. I was like 'Oh this is great.' And instead of having a transition period of being the new girl… but there was never really any."
OK!: So who would you say your friends and your foes are out of the cast?
Dorinda: "Here's the thing: I tried to tread gingerly. I tried to feel it out a bit. Obviously I've been friends with Ramona for a long time, you know, LuAnn de Lesseps a long time. I always knew Sonja Morgan. Never knew her well…but we hit it off right away because she's just so much fun and so wacky and just always up. Kristen Taekman, I had a little bit of a thing with Kristen in the beginning just because we were sort of adjusting. You know, she's younger, she comes from a different background, but we've kind of sorted it out. The one that I was surprised about, at least a little bit: Heather Thomson and I knew each other in Great Barrington Massachusetts – we're neighbors in Great Barrington, and we sort of had to adjust our friendship a little bit being city friends. We were fine, but it was interesting. We didn't have the same sort of back and forth like we do when we're in the country and we're in our, you know, our sweats and we're with the kids and we're cooking. I don't think I have any real foes this time…. But you know it's eight girls! Listen, think about a real situation you're in, from an emergency room to the Real Housewives of New York, you put eight girls together, there are going to be girl fights. It's inevitable."
MORE ON:
The Real Housewives of New York City
Article continues below advertisement
PHOTOS: 19 Real Housewives Show Their Hot Bodies In Bikinis
OK!: What are your thoughts on Bethenny Frankel coming back?
Dorinda: "I didn't know Bethenny. Bethenny was one of the girls I didn't know and I was very curious and maybe slightly frightened about first meeting her. I think it's been great to have her back. She brings back the old school tone. She, too, has changed, as we all do. That's the great thing about this show for people and women our age. It's okay to have made mistakes. It's okay to change. It's okay to redo it and say we're starting again. But she's in that place again. I think she's a strong businesswoman. She's a good mother. I get along with her super well, but I'm a real straight shooter too. So we kind of, in a weird way, have the same personality. I'm a little bit more verbal than she is. I love to talk and we're Italian. She's great. She's a great addition and she definitely brings back the old school tone, which is good, you know?"
OK!: Why do you think she and Heather are kind of clicking as seen in the trailer?
Dorinda: "You know, I don't…here's the problem, they're very different people and that's okay. Heather is much more of a corporate, kind of athletic, go-getter and Bethenny…they're just different girls. I know a ton of girls and some of them I just don't click with, so, you know…yeah that's all I can say about that."
PHOTOS: Real Housewives, Real Faces: See Photos Of Bravo's Beauties Without Makeup
Article continues below advertisement
OK!: What do you think about Real Housewives now that you're part of it?
Dorinda: "It is exactly what you see it is. You're put in that situation and anybody that ever says, 'Oh it's…' It really isn't. It is a bunch of girls living their life, bravely putting it out there. It's a brave thing for all these girls to do and I think all of us hope that people can look at us and I'm sure be critical, but also hope say, 'I get it. I've been there.' Maybe this can help a little bit. So I hope that's what comes out of it and I feel very blessed to be a part of it."
To keep up with the drama, check back weekly at OKMagazine.com and tune into The Real Housewives of New York City Tuesdays at 9 p.m. EST on Bravo!