NEWS
'Real Housewives' React to Taylor Armstrong Abuse Photos: "Devastated & Upset for Her"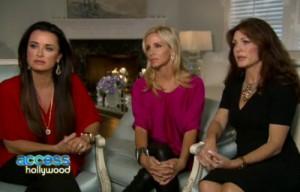 Article continues below advertisement
Photos were released this week showing Taylor with a black eye that she claims was caused by Russell, who committed suicide last month.
"I was over at her house approximately three weeks after it happened, and I was devastated and upset for her that she went through this," Camille said.
And Lisa says she saw Taylor the same day the incident allegedly happened.
"I was with her the night that all this ensued, and they looked to be in a good place," she recalled. "It was very confusing, their relationship, and you see that on the show… They were in a good place when I left them at 1:30 in the morning. They were in a good place, absolutely."
OK! NEWS: TAYLOR ARMSTRONG TALKS RUSSELL ARMSTRONG ON REAL HOUSEWIVES — "I LOVE HIM. I DO"
So why do the ladies think Taylor sold the photos to the press?
"That's something you'd have to ask Taylor, but I mean, she does have a child to support," Kyle explained.
"She has been left with this crumbling kind of deck of cards of a façade, that not only did she lose the father of her child, but also her support, her whole lifestyle and everything crumbled around her," Lisa said. "So, I think we have to be supportive in whatever choices she makes."