NEWS
The Real Reason Miley Cyrus Has a "Deep Connection" With Liam Hemsworth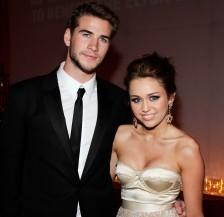 Now the cat is out of the bag about Miley Cyrus' romance with The Last Song co-star Liam Hemsworth, the teen star can't stop talking about their "deep connection".
She rang into the Johnjay and Rich show on KIIS FM in Phoenix, Arizona on Thursday morning and talked about going public with her relationship via Radar Online.
OK! NEWS: MILEY CYRUS CHATS ABOUT THE LAST SONG
"Everyone knew we were dating," she said. "I mean, who flies to Australia just to visit with a 'friend'?"
Article continues below advertisement
Although she denies that the Aussie hunk is living with her, she described their bond as a "deep connection" that is "deeper" than most people.
OK! NEWS: JUSTIN GASTON KEEPS DREAMING POST-MILEY CYRUS
So what does she love about him? He has his own career and isn't using her for fame. "I feel like I've been with people before, both in the public eye and out of the public eye, that may need something from me," Miley said.
"He's not like that. He was already successful, he was already cast in the movie, he didn't need me for that. He doesn't need me to make him famous. He's got his career and his goals and that's awesome."
OK! HOT GALLERY: MILEY & LIAM'S SUNDAY STROLL
Mentioning her Oscars flub, Miley said that she hadn't been nervous before going on stage but co-presenter Amanda Seyfried, "got me freaked out" and she said that also just before stepping on stage Oscar producer, Adam Shankman, unnerved her by telling her, "Add personality to it!"
Miley said that she's "super stoked" about The Last Song and that she hopes "for the first time people will take me seriously" but if they don't she's "ready for the ups and downs, I'm so excited, no-one can take that away from me."
OK! NEWS: BRET MICHAELS SINGS LOVE SONG WITH MILEY CYRUS
She added: "I may not be the best singer in the world, but I don't lip synch, I'm honest. I'm honest in acting too – I'm going to chose roles I like. I'm doing what I like, people that are dogging me probably aren't which is why they're down on me., I want to tell them 'go get a hobby!'"