NEWS
Rebecca & Jerry Keep The Twins on Their Toes!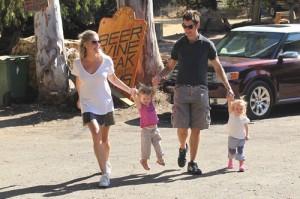 Jerry O'Connell and Rebecca Romijn took their twin daughters, Dolly Rebecca Rose and Charlie Tamara Tulip out for a Sunday breakfast in Calabasas, Calif. Jerry and Rebecca were swinging one of the twins, as the other held tight to dad's hand. The little ones are getting quite big, and are almost walking on their own! "They aren't really talking. They are having conversations in gibberish," Jerry told OK! recently of his devious little duo.
Article continues below advertisement
Jerry added of Dolly and Charlie, who will turn two at the end of the year, "We actually just transferred them from cribs to real beds, which is a big problem because they keep coming out of their beds and you'll be sitting there, like you'll be on the computer, and one will appear in back of you — and it scares the crap out of me."
MORE ON:
OK Galleries & Photos
"They have a very specific language that they speak with each other. They talk to us a little, but they have this very funny language. They are very specific. It's a twin thing," Rebecca said.