NEWS
Rebecca Romijn and Jerry O'Connell on Marriage, Kids and Keeping Their Love Alive in Hollywood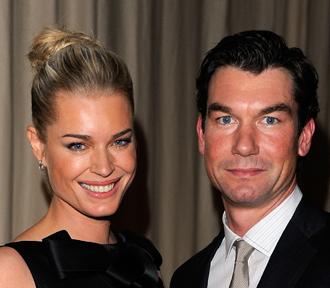 Article continues below advertisement
Obviously, you and Rebecca have no problem with PDA. But how do you balance your relationship, kids and a career and still find time for one another?
Jerry: Once a week we have a date night. But sometimes I don't really keep up with that promise a lot because we do have two little kids and we can't always find a sitter. I'm working here in New York, and Rebecca has been in L.A. for a little bit, so I fly out on my day off. It's tough, but we do try to get at least one day a week for just the two of us, so we don't go crazy. Otherwise, all of our dates would consist of going to see animated movies and eating mac-and-cheese at family-style restaurants.
Rebecca: When we go out to eat, we sit on the same side of the table.
Jerry: In Hollywood, you can't go to the more popular establishments because they are always packed.
Rebecca: So we always have to look for less popular restaurants.
OK! GALLERY: REBECCA ROMIJN AND JERRY O'CONNELL KEEP THE TWINS ON THEIR TOES
Are you thinking about having more kids?
Rebecca: No! No! We are done! Two is enough! We don't want to be outnumbered.
Article continues below advertisement
How is it, balancing two at the same time?
Rebecca: That's all we know. In a lot of ways we feel like it's easier, and right now they keep each other so busy because they are each other's play dates. Right now, they are just getting potty trained, so diapers are now almost part of our history! No more disgusting diapers! So, in a lot of ways, it's getting easier and easier.
Since you did have twins, what are some of your workout tips?
Rebecca: Do yoga. We like to do things together a lot. A lot of bike rides, hiking. We walk around the city a lot. We go to the gym sometimes.
Reporting by Sonia Lima