NEWS
Red Carpet Confidential: Alyson Hannigan Reveals Why She Prefers Unusual Names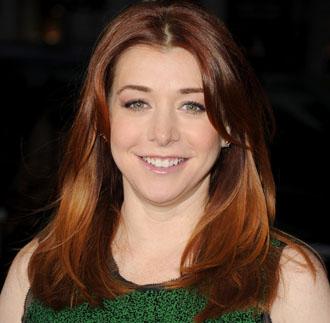 It's a girl for How I Met Your Mother star Alyson Hannigan and hubby Alexis Denisof, who announced today that they welcomed their second daughter, Keeva Jane, last month.
The little one joins big sister Satyana, 3.
Why does she prefer unique names?
"It's funny because during the pregnancy with Sati, all of the names we put on the list were very traditional and old fashioned, and then we went so far away from that," Alyson, 38, tells me during a Pull-Ups Potty Dance event in L.A.
Article continues below advertisement
"But I like names that you can take nicknames out of. It's a little difficult because my husband's last name is Russian, so it's hard to find something good with a last name that's Russian, but longer names work better with his last name. We went with a unique name. I like that if she doesn't want to have a unique name when she's older, she can be Ana or Tina or some little nicknames you can take away."
OK! BLOGS: RED CARPET CONFIDENTIAL: ALYSON HANNIGAN TEACHES DAUGHTER ABOUT THE BIRDS AND THE BEES
Like Satyana, whose middle name is Marie, Keeva could also go traditional.
"Sati has a normal middle name, so I just like the variety aspect of that," Alyson explains. "We narrowed it down to two names when she arrived and then it was still four days after her birth and we were still calling her 'baby girl.' And I was like, 'Honey, we have to pick one of these names, it's driving me crazy.'"
Article continues below advertisement
She continues, "I think it's all about nicknames. We call her Sati. I also love the meanings of names. There were some great names that I love, but then you'd go on the website and it would be one of the top-10 most popular names. I don't want her to be in class with four whatevers, so that swayed us more toward the unusual name. But we have already encountered another Sati in her class. I was like, 'Really? That's hilarious.'"
Hm, I wonder if Alyson's choice of monikers inspired the mother of Sati #2?
Keeva means "protect, shelter; gentle, beautiful, precious."