NEWS
Red Carpet Confidential: Brooke Burke-Charvet: "I Love My Tummy!"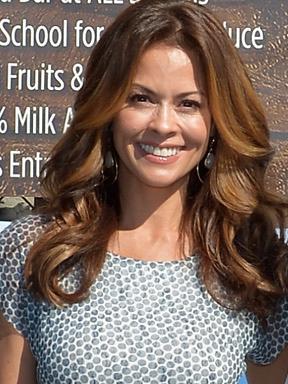 Dancing With The Stars host Brooke Burke has an enviable figure, but the section she appreciates most is her middle.
"My favorite body part is probably my tummy," she tells me Wednesday during Brita and the Alliance For A Healthier Generation's Brita Bottle For Kids donation event held at an elementary school in Pasadena, Calif. "That's intuition. That's where I grew all my babies."
Considering many moms would give anything for a stomach as flat as Brooke's after giving birth to four children — Neriah, 12, Sierra, 10, Heaven, 5, and Shaya, 4 — Brooke is happy to reveal her secrets to her hot body.
Article continues below advertisement
OK! GALLERY: KARDASHIAN SISTERS KIM, KOURTNEY AND KHLOE CATCH UP IN MIAMI BEACH
Unlike her colleagues at talent competitions American Idol and X Factor, Brooke won't be caught swilling a soda. (American Idol has a deal with Coca-Cola while X Factor has a deal with Pepsi.)
"Well, it's a lot of calories, it's a ton of sugar, and I would rather let my children have dessert and eat it, instead of drink it. I just think water's the best choice. I drink water all day long. I try to get my kids to do the same thing."
She continues, "I just don't stock my home with a lot of junk. Especially with a long school day."
Hm, how does she make sure to get enough water?
"I think I drink a minimum of eight glasses a day, but I always have water on me," Brooke says. "My dressing room is stocked pretty much with water only. I drink water all day long. I literally always have a bottle with me. And it's good for the skin, it's good for everything."
Article continues below advertisement
OK! GALLERY: KYLE RICHARDS AND HER 'REAL HOUSEWIVES' PALS PARTY AT HER NEW STORE OPENING
Not only does she avoid colas and other sugary beverages, but she is also careful to make sure she never misses a meal.
"I eat — I eat well, and I eat often. One of the keys is to not skip meals, and not do fad diets, but create a healthy lifestyle. A Mediterranean diet."
She continues, "Well, I don't overeat. If I'm going to splurge on something, I have that meal and get back on track. It's really about portion control. Normally I stick to my usual routine, which is not a lot of sugar and not a lot of processed foods. Healthy greens, fish, salmon, chicken."
When it comes to cravings, Brooke keeps them in check by never going overboard on M&Ms, candy corn or the always-tempting potato chips.
"I don't really crave sugar. I mean, not never. I'll have a cheat day where I'll eat whatever I want, but sugar's not my thing. It's more salty-crunchy for me, but I'm not a chip person."
Plus, this married mom, who tied the knot with hubby David Charvet last year, makes an effort to workout.
Article continues below advertisement
"Fitness is a big part of my life. I'm always working out. I have my own DVD series, so I've compiled all the best moves in a 55-minute workout that's all sweat and burn."
She adds, "It's my favorite workout. It's effective, it's less than an hour, it's great sweat, it tones and lifts and sculpts your body. It's a body sculpting, lifting, toning, working to fatigue, booty-burn -- sweat."
There's no doubt it's working!
OK! GALLERY: BRITNEY SPEARS AND FIANCE JASON TRAWICK ARE A GORGEOUS COUPLE AT CITY OF HOPE GALA
Why did Brooke get involved with the launch of the Brita Bottle For Kids?
"Well, it's a really healthy message, and I feel a responsibility as a parent, but I'm also a water drinker, and my kids are all athletes. I teach them to drink a lot of water. It's super important."
She adds, "Aside from all that, the new Brita bottle — the kids' bottle is really fun and easy to use. It's like a new gadget for the kids, so I love the campaign and I think the Alliance For A Healthier Generation that Brita partnered with, is a really strong message — about less sugar, and more water. It's the way I'm raising my family, so there's a lot of synergy there."
Article continues below advertisement
Best moment of the event?
"We're educating children about healthier choices at a public school in Pasadena," she explains. "We just gave away 600 bottles that they can reuse and refill. It filters water from your sink, so it's a really cool new bottle, really smart, and really cost effective."
Brita partnered with the Alliance For A Healthier Generation to donate Brita Bottle for Kids to school across the country. The Brita Bottle for Kids is a reusable bottle with a built-in filter that provides an affordable and convenient solution for kids to drink great-tasting water on the go. The 13-ounce, BPA-free squeeze bottle, features bright, kid-friendly designs — including sports and butterfly themes — that help make drinking water more fun for children.