NEWS
Red Carpet Confidential: Brooke Burke-Charvet Spills Hot Body Secrets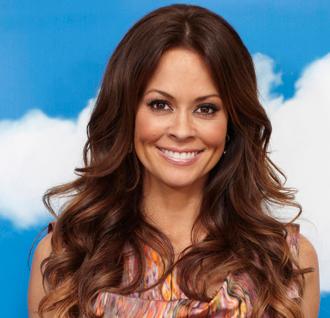 Making time to work out and eat right is a top priority for Dancing With the Stars host Brooke Burke-Charvet.
The 40-year-old beauty, who wed longtime fiancé David Charvet in August, is mom to Neriah, 12, and Sierra, 10, whose father is ex-husband Garth Fisher, plus Heaven, 5, and son Shaya, 4, whose dad is David.
When she's not working "every body part to fatigue" three days a week for 45 minutes at home, she hits the gym for a dance class.
Article continues below advertisement
"It's fun because it doesn't really seem like a workout," Brooke tells me at the Claritin Difference Is Clear short-film screening in NYC. "The music is great. You don't feel like you're getting a workout. It's really fun, it's sensual, it's great cardio."
She adds, "When I do it, I have more energy, less stress. I always feel better when I cut some time out for myself."
OK! BLOGS: RED CARPET CONFIDENTIAL: ALI LANDRY'S HOT BODY-AFTER-BABY SECRETS!
Despite the demands on her time, Brooke believes in making a commitment to her exercise program. What's her best tip for maintaining a workout regimen?
"Make yourself as important as every job you've had," she says.
For Brooke, her fitness routine is supplemented with good eating habits.
"I have a Mediterranean-type of diet," she explains. "I drink a lot of water, I don't waste calories on sugar, juices, sodas and that sort of thing. I eat fish, meat, beef, grilled fish; I eat a lot of sushi, vegetables, soups, salad, a lot of clear soups, drink a lot of lemon water. As a rule, I don't eat white flour, starches, sugar and bad fats, but I'll do olive oil, avocado and almonds. It's really easy, actually. Healthy, fresh, clean, but flavorful herbs, oil."
Article continues below advertisement
"My kids have a pretty great palate," she says. "They're well-traveled, and they've been exposed to that. I think it's super-important to teach those healthy eating habits early on, and I cook a lot — David and I both do — at home. They're great eaters. They'll eat everything from sushi to filet mignon to vegetable soups, broccoli, pasta, Italian — they eat spicy food; they love ethnic food."
What does she do if her kids don't like a particular dish?
Article continues below advertisement
"We have a rule: Try it twice. It's not even once, because sometimes that foreign taste will freak a child out. So they try it twice, and if they don't like it, they don't eat it. I don't really force any of that. But I do teach them about the food groups, portions, what's healthy and what's not."
The lessons they've learned from their mom will serve them well in the future.
"It's a delicate thing with children. There's so much body image in my industry that my kids are exposed to, so I try to go with 'foods that make you grow' and 'foods that are healthy for your body' — not good foods and bad foods. Nothing's off-limits. We definitely break the rules, but for the most part, it's easier to keep it healthy, fresh and clean at home."
Pick up the Reality Weekly on newsstands now for more on Brooke Burke, who tells readers how to get her body by summer. The cover line is Kourtney and Scott: Inside Their Wedding. And catch her on Dancing With The Stars, which airs Mondays and Tuesdays on ABC.