NEWS
Red Carpet Confidential: Coco Austin's Swimsuit Secrets: Gym, Tan, Water Pills?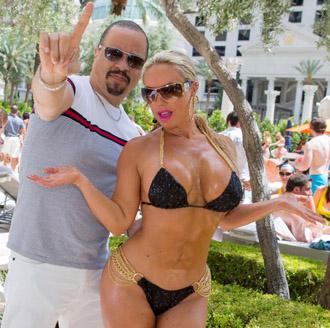 As a swimsuit model, Ice Loves Coco star Coco Austin is a professional at looking her best whether relaxing poolside or taking a dip in the pool.
How does she do it?
"When I need to get prepared to go to the beach — like on vacation — the first thing I do is take water pills," the reality star, 33, tells me during a Ghost Recon: Future Soldier video game event. "That's a big step for people. Take it for a week in advance, like if you have a wedding to go to, or something special that you need to do."
Article continues below advertisement
She adds, "The water pill is great to do because it gets rid of the excess water in your skin, and it takes care of bloating, so that's good for women. That's what I would do first — water pills. You can get them at GNC or any vitamin shop, even online. It's completely natural, so it's not something bodybuilding wise that you need to worry about. But because it dehydrates you, you don't take it for long. Stop it right after your special occasion."
OK! NEWS: BETHENNY FRANKEL USES COCO AUSTIN'S BUTT AS DRINK SHELF
Still, diet alone won't lead to a picture-perfect body. To tone up, she hits the gym.
"I'm into squats and lunges," she says. "Those are very key in just getting your whole body in shape. You don't go to the gym and squat one or two times, and say 'OK, I've been to the gym.' You go and you lift a lot of weight — the more weight you can lift, the faster you're going to mold your body into perfection. Girls are a little scared from lifting weights, but the more you do it, the better and more in shape you're going to get."
Article continues below advertisement
Hubby Ice T approves.
"I believe Coco's the best at what she does," he says. "She's an extreme model."
Ice T and Coco recently hit Venus Pool Club at Caesars Palace in Las Vegas. She swam around – splashing and everything -- wearing her Beach Bunny bikini.