NEWS
Red Carpet Confidential: 'Biggest Loser' Host Alison Sweeney Offers Summer Slimdown Tips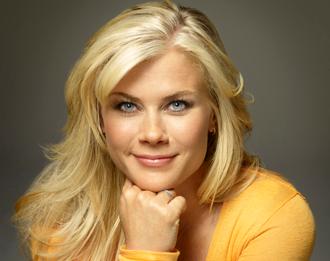 Now that the weather is heating up and clothes are coming off, Biggest Loser host Alison Sweeney offers tips designed to tone up and slim down.
First, she recommends adding fruit in order to quash cravings.
"If I'm eating right, I'm more motivated to workout because I feel better about myself," the Little Miss Coppertone guest judge tells me this week. "Now, the fruits are so delicious and just this morning, the cantaloupe was incredible. It's strawberry season. Mangoes and apples are really good. Filling your diet with those summery fruits fills you up, it tastes delicious, and I think it also satisfies that sweet tooth so that you're less tempted."
Article continues below advertisement
Hmm, what good will cardio do?
"Cardio is an all-over fat-burner," she says. "It's not targeting a certain area, but it's helping your whole body get tight, and maybe shed that little bit of surface fat that you may have accumulated during the winter months. I know it's good for your heart, and it's good for your energy level."
She continues, "One of the things people look forward to in summer is you get that enthusiasm and good energy back, and part of that just comes from exercise. They always say that exercise is a natural anti-depressant, so if you're shaking off those winter blues, it's great to get out there and burn some calories and get your sweat on. It's good for you. It'll make you feel good about yourself."
Article continues below advertisement
OK! BLOGS: RED CARPET CONFIDENTIAL: CELEBRITY APPRENTICE STAR LISA LAMPANELLI SHEDS 25 POUNDS
Why is exercise a mood booster?
"Chemically, getting your body moving induces certain hormones in your system that are the same thing as that natural antidepressant," she says. "It's the opposite of a vicious cycle. It's putting you on a positive spin. You do something good for yourself, and you can't help but feel good about yourself, and then you'll make another good decision for yourself, and then it adds up. All of a sudden, a week has gone by, and you've been eating right, taking care of yourself and working out. That's going to make you feel good, make you smile and make you more confident and therefore happier when you're at the beach in your bathing suit."
Alison teamed up with Coppertone to be a guest judge for the Little Miss Coppertone contest, which will seek to find the little girl who most embodies the spirit and carefree nature of the beloved icon.
Interested? Until June 22, parents and guardians can upload a photo of their girl, aged 2-8, on the Coppertone Facebook page. Beginning July 13, America can vote for the winner, who will receive the ultimate family vacation and be featured in a 2013 Coppertone print ad.