NEWS
Red Carpet Confidential: Could Tiffany Compete On 'Dancing With The Stars'?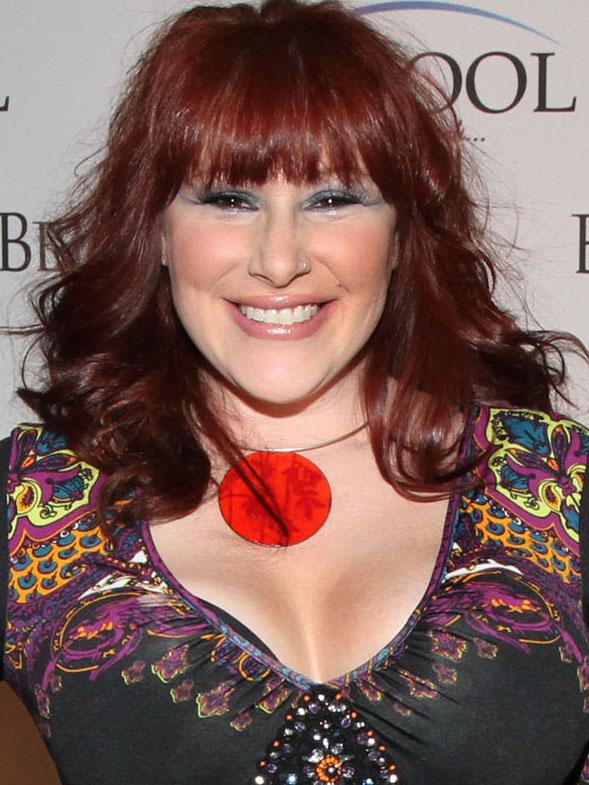 While Debbie Gibson could be seen on Celebrity Apprentice last year, her fellow 80s teen queen Tiffany would jump at the chance to compete on Dancing With The Stars.
"I'm very competitive," the married mom, 41, tells me this week while hosting an 80s bash at The Pool After Dark at Harrah's Resort Atlantic City. "I'm very lazy unless there's somebody next to me. I'm that way with the gym. Because I'm a multi-tasker, I'm thinking about laundry and all the other things I could be accomplishing while on that treadmill, but as soon as a girl with the right body comes up next to me, I'm like 'that's right, we're staying on this — we're going. I'll drop before I get off this thing!'"
Article continues below advertisement
She adds, "I'm very competitive in that sense, and I was actually a dancer for many years before I even got a record deal. It would be great to do Dancing With The Stars because that would revive those chops a little bit."
OK! GALLERY: SEE PHOTOS OF TIFFANY, DEBBIE GIBSON, NEW KIDS ON THE BLOCK, 98 DEGREES, *NSYNC AND MORE IN THE VALERIE GALLERY
It seems she's had a change of heart since 2011, when the 2007 VH1 Celebrity Fit Club winner told me, "People over the years have said 'reality TV!' and I said 'well, I'm too healthy for reality TV.' I'm boring, and there's drama with trying to get through all your shows.'"
Although the red-haired singer is best known for her '80s hits I Think We're Alone Now, Could've Been and I Saw Him Standing There, she doesn't let the fact that her heyday was 25 years ago bring her down.
In fact, she is quite happy with the present.
"Music aside, I do a lot of other projects — songwriting for TV and film, for other artists around the world, and a lot of TV work, from reality TV to more hosting things, a lot of cooking shows."
Article continues below advertisement
Still, she is thrilled about the nostalgia craze.
"I'm still tripping a little," she says with a laugh. "I think it's great, because people are rediscovering the 80s, which was a time period that was so much fun. The music was lighthearted, and it started so much that's going on now. I hear a lot of current music that are doing melodies and baselines — all different things production-wise — that I'm just like 'that's totally 80s, OK?' Which is great."
Article continues below advertisement
She continues, "I have a son Elijah in college, and it's fun for me to be out. They have no clue sometimes, who I am, because they'll start mentioning '80s artists, and I'm like points to herself 'you're on the right path. Love you.' It's great."
Hm, will she see The Package Tour featuring New Kids On The Block, 98 Degrees and Boyz II Men?
"I think it's going to be great," she says. "I've yet to see the New Kids out on the road since they regrouped because I'm always on the road myself. I would love to sneak in and see a show at some point. I'll have to make a plan to do that."
OK! GALLERY: NEW KIDS ON THE BLOCK, BOYZ II MEN, 98 DEGREES GOING ON SUMMER TOUR! CHECK THEM OUT THEN AND NOW
She's lucky she still has a relationship with former boyfriend Jon Knight, who has since come out of the closet.
"We're still friends, but we don't really hang in the same circles," she says. "Obviously we have mutual friends, but it's been hard. I work so much. I'm like the lone ranger out by myself, and I live in Nashville. It's very funny because I actually do more hanging out with Lance Bass laughs than the New Kids. Lance and I are very close, and he's actually coming to Nashville, so we'll be writing some stuff for his new record."
Article continues below advertisement
As for her friendship with Debbie? In 2011, the pop stars toured together and starred in SyFy's Mega Python Vs. Gatoroid.
"She's busy," Tiffany begins. "She's in L.A., and I'm in Nashville. We talk here and there. We text more than we talk. There are projects that we might be doing together here and there, but we're on different paths right now. We've yet to see what's next in our journey, maybe, together. Touring, I'm not so sure, because I really am with Sensa and have so many other things going on. Writing the book right now as well."
She continues, "I'm staying home, losing weight and selling my memoirs, so there's a lot on the horizon for me rather than just being out on the road right now."
Up next Tiffany hits the stage at The Pool After Dark to perform a medley of 80s hits that include I Saw Him Standing There, I Think We're Alone Now and cover songs. Ha, I can't help but do the hand motion from the I Saw Him Standing There video. It just feels natural!