NEWS
Red Carpet Confidential: Debbie Gibson Ready To Judge 'American Idol'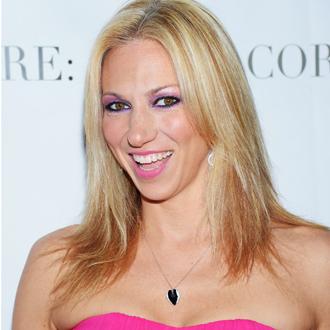 Now that Jennifer Lopez is eyeing the exit sign at American Idol, Debbie Gibson could be set to make the jump from Celebrity Apprentice to TV's top vocal competition show.
"Oh, I'd love it," the pop star, 41, dreamily tells me during her Gibson Girl Foundation Gala held this week at Oheka Castle in Huntington, N.Y. "I definitely feel like I would have something to offer them. I've been there as a young person, I now have a different perspective, and I feel like I can give constructive advice and know how to pull a good performance out of somebody. It's an instinctual thing. I think I'd really enjoy something like that, actually."
Article continues below advertisement
OK! BLOGS: RED CARPET CONFIDENTIAL: DEBBIE GIBSON MAKES PEACE WITH TERESA GIUDICE
For now, she's eager to see Britney Spears take the judges' seat on X Factor.
"I can't wait to see her," Debbie says. "I don't think we've gotten to know Britney. I think she's been hidden behind a lot of bells and whistles, and I think this might give the public – much like J.Lo. We got to really know J.Lo through Idol, and it was great for her. I found I really love J.Lo. As a person, you really get who she is, so I look forward to seeing who Britney is as a person."
If Debbie were to lead American Idol or another show like it, she would be an excellent choice. After her stint as a judge on American Juniors in 2003, she mentored talented kids through her Camp Electric Youth and has provided scholarships to talented kids in need through her Gibson Girl Foundation. While she is best known as the youngest person to write, produce and perform a #1 single (Foolish Beat) — whose hits also include Only In My Dreams, Shake Your Love, Out of The Blue, Electric Youth and Lost In Your Eyes — she also has racked up extensive Broadway credits. (That record, set in 1987, still holds today.) Certainly Debbie is primed to give contestants tips to succeed.
Article continues below advertisement
OK! BLOGS: RED CARPET CONFIDENTIAL: DEBBIE GIBSON GETS KARDASHIAN VISIT
Why help young performers?
"I couldn't imagine my life without the arts, especially when I was a kid," she says. "It all started for me on Long Island. Every summer I was in a show, and I was always taking lessons. My parents somehow managed to come up with the money, but not all parents can, and you're going to see a violinist that we've been supporting this past year through the Foundation. She's going to perform Lost In Your Eyes with me tonight. "
I was lucky enough to sit at the table with her dancer Buddy Casimano and two of the families the Gibson Girl Foundation has been helping out. It was incredible — so touching to see them take the stage with Debbie as she sang tunes including Lost In Your Eyes, on which she let rising teen singer Ali Isabella take the lead and Foundation beneficiary Lydia Rose back them on viola.
"I've always loved the arts, but with my family's financial limits, I could only do so much," Lydia tells the crowd. "But my mom and I applied for the Gibson Girl Foundation scholarship, and I was able to attend the performing arts camp USDAN over the summer. At USDAN, I could major in viola and minor in dance, and I'm able to do the two favorite things I pretty much love to do, which I couldn't do before I received the scholarship."
Article continues below advertisement
She continues, "It was a great summer for me, and I was surrounded by people who have a passion for it, which I do, and it was a summer to remember. I was surrounded by great teachers, who enhanced my education, and it was really a great experience. I'm forever grateful to the Foundation and I'd like to thank Debbie Gibson."
OK! BLOGS: RED CARPET CONFIDENTIAL: DEBBIE GIBSON REOPENS CULTURE CLUB
I got chills hearing about the good work Debbie is doing. So many kids are being helped through her Foundation! Truly touching.
But I wasn't the only one moved by the cause. Celebrity Apprentice stars Aubrey O'Day, Dee Snider and Lisa Lampanelli joined Debbie onstage for a rousing rendition of We're Not Gonna Take It, singing it twice as a rallying cry against the arts education funding cut that recently took place in nearby Stony Brook.
"They voted down the budget, and they're cutting the arts in Stony Brook, and that's why the Gibson Girl Foundation is so important," Dee says. "That's why we're here tonight, because the arts are not an afterthought. The arts are the primary thought. It starts with the arts, begins with the arts, and that's why we're here tonight."
Article continues below advertisement
He continues, "We're being treated like second-class citizens. Music and art is the most important thing in the world. One last thought: This mansion is built on the highest point of Long Island, so if we sing loud enough, everybody should hear us. You might want to crack a window."
Other notable moments of the gala include when Debbie and Aubrey did a duet on her new tune Wrecking Ball, and when Debbie's niece Rebecca joined her Ridgewood, N.J. vocal group the Crazy Pitches onstage to sing her motivational melody Anything Is Possible (love that song!). Plus, comedian Lisa performed her Celebrity Apprentice schtick onstage in support of the cause.
OK! BLOGS: RED CARPET CONFIDENTIAL: DEBBIE GIBSON ROCKS FLAT ABS AT 40
What's next for Debbie now that Donald Trump's reality show is finished?
Minus a judging gig, it's all about the tunes.
"New music," Debbie says with a laugh. "I'm just so ready to not have something on the schedule, and just buckle down and get in the studio and make the music. It's written and it's burning a hole in my notebooks! I go to sleep hearing arrangements in my head, and I'm ready to execute them."
Article continues below advertisement
Any more non-musical reality TV is unlikely.
"Honestly, all these things are a sidetrack from my music at this point," she confesses."I love to dance, and I get to do it in my live show, but I think this is my dose of reality television, unless it involves my own show and me mentoring kids, much like I like to do with my camp. I'd like to do something that really contributes positively in the reality world, and that I'm at the helm of. I don't know that I want to be in a reality show cast again. I enjoyed this experience, but I think that one time is enough."
During the benefit also attended by her mom Diane, sisters Karen, Michele and Denise, and beau Dr. Rutledge Taylor, HLN'S Showbiz Tonight host AJ Hammer provides a roast – only to OK! Psst … they kissed in a bathtub in her 2001 video for What You Want!
"The joke became on Celebrity Apprentice that Deb will sing at any moment if given the opportunity, and it's true," AJ tells me. "Not so much of a roast, but the one story I've never told publicly, so this is a scoop – Deb and I were driving out for a weekend of skiing in California a dozen years ago, and we got pulled over by a cop, going I don't know how fast, listening to and singing along to Britney Spears' debut album. She was singing, I was driving, so I got the ticket — she did not."
Article continues below advertisement
Can't you just hear her now singing along to Baby One More Time, Born To Make You Happy and the ol' Email My Heart?
It's a busy week for Deb while she's in New York. She performs an intimate concert at her 80s-90s hotspot Culture Club during which she gives a Donna Summer tribute with her rendition of Last Dance (and busts out her 1993 hit Losin' Myself and 2001's Your Secret in addition to the other favorites). Then, it's off to the Celebrity Apprentice finale, the Gibson Girl Foundation Gala, and finally the Celebrity Apprentice reunion at Core Club … all within four days!
The Gibson Girl Foundation brings children and the performing arts together by awarding scholarships and musical educational opportunities to underprivileged children who display talent and hope to participate in programs to enhance their skills.