NEWS
Red Carpet Confidential: Debbie Gibson Makes Peace With Teresa Giudice After 'Celebrity Apprentice'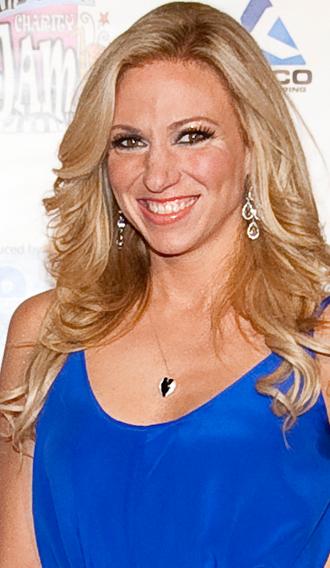 Despite being unfairly singled out for elimination by Teresa Giudice on Sunday's Celebrity Apprentice, Debbie Gibson is quick to forgive.
"I don't talk to her, but don't hold grudges," the '80s pop icon tells me Monday of her post-show relationship with the fiery Real Housewives of New Jersey star. "I'm always open."
Of course, the brightest spot in her departure is the way she proclaimed, "I'm still Debbie Gibson, and no one can take that away."
Article continues below advertisement
Precisely!
"Celebrity Apprentice reacquainted me with fans from years ago, tested my stamina, and helped me not to care so much what people think," Debbie, 41, says. "Everyone has an opinion on the cast members of this show. People love you or hate you."
Looking back, the "Shake Your Love" singer has no regrets about her seven-episode stint on the show.
"I feel I was portrayed fairly. The public is smart and can see what happened. I have no regrets. I stand by every decision I made on that show. Maybe not everyone agrees with them, but I don't need to be liked by everyone — I'm at peace with myself."
Article continues below advertisement
Sometimes the reality of "reality TV" was real — and other times, it fell prey to editing.
"Definitely a few eye rolls were taken out of context," she says. "Sometimes entire storylines were left out making it look as if I was doing less than what I actually did, but I understand the show is long enough. Overall, I stand by all my decisions and was portrayed pretty accurately. Though, if anyone put a camera on themselves all day everyday they'd see a range of colors — some not so pretty. I am human, so this was truly a study in my own behavior as well as all human behavior!"
Her fondest memory?
"Hanging out in the hallway at the hotel with Clay Aiken and Arsenio Hall reminded me of the dorm life that I never had because I was touring through my college days," she says.
With Celebrity Apprentice behind her, Debbie is ready to focus on her career — and move away from reality TV.
"I loved this adventure, but I am so ready to get back to music," she says. "If a performance or mentoring-related show came a-callin,' maybe so. But the cameras-on-you-all-day-type show? Not likely."
Article continues below advertisement
She adds, "It is a weird business now in which artists who have skills and have developed a craft reach people most effectively, but potentially for not all the right reasons, by portraying a heightened version of themselves. I would rather quietly make my music, but I am thankful to Mr. Trump and his team for this opportunity because many more people will be aware of that music as a result of me being on this show."
For now, Debbie is busy writing new songs and hopes to release an album later this year. She's also working with the Malibu Stage Company, which is producing the musical she collaborated on with Jimmy Van Patten called The Flunky.
OK! BLOGS: RED CARPET CONFIDENTIAL: GIULIANA RANCIC ADMITS SHE LIED ABOUT HER AGE WHEN SHE MET BILL RANCIC
Another avenue she'd like to explore is a health food venture.
"I'm an experimental chef. I'm big on finding whatever's in the refrigerator, and making omelets or huevos rancheros. I never make the same thing twice. I like experimenting. I experiment with baking, too. I try to bake things and incorporate a healthier flour, like a gluten-free flour, a coconut sugar, and a Stevia — a semisweet dark chocolate chip. I try to do a take on an existing recipe, but give it a healthy spin."
Article continues below advertisement
She adds, "I seriously, at some point, can see myself venturing into Suzanne Somers territory, and doing some health products, recipe books, protein bars or whatever, and always experimenting with better ways to get your sweet fix, or your snack fix, without it being completely unhealthy."
And she'll take lessons learned under the tutelage of Donald Trump with her.
"Being on Apprentice definitely sharpened my producing skills in the sense that I had to work within certain budgets, had to deal with so many personalities — some people had more than one laughs — and I had to know how to delegate most effectively."
Pick up the Reality Weekly on newsstands now for Debbie's Favorite Reality TV Moments. The cover line is "Bachelor Baby Surprises - Pregnant!"