NEWS
Red Carpet Confidential: Denise Richards Carried 15 Pounds of 'Emotional Weight' After Losing Her Mom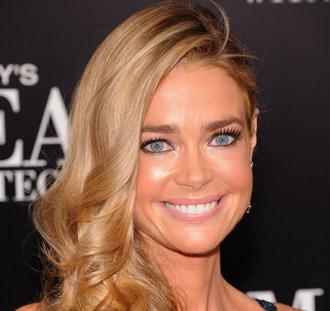 Although Denise Richards has a family of three beautiful daughters in Sam, 8, Lola, 7, and Eloise, 1, plus a friendly relationship with ex-hubby Charlie Sheen, she deeply misses her mom, Joni.
"Losing my mom four years ago to renal cell cancer has been my biggest struggle," the actress, 41, tells me while promoting her Volume Extend by Cristophe hair care line. "She was 53 and we were incredibly close. Not a day goes by that I don't think about her. My girls have been my pillars of strength."
Article continues below advertisement
OK! NEWS: DENISE RICHARDS OPENS UP ABOUT ACTING WITH CHARLIE SHEEN
Post-loss, Denise saw her body change as she bulked up as a result of her grief.
"When my mom passed away, I gained 15 pounds," she says. "This was the first time I understood what emotional weight was, it was more difficult to lose this than my pregnancy weight. I made a strong commitment and started doing Pilates six times a week and lost the weight."
She adds, "My body has responded to it more than other workouts. It was the only form of exercise I found to get my tummy flat after two c-sections. I love how Pilates elongates the body and really gets the hip, butt, and belly in shape."
OK! NEWS: ARE DENISE RICHARDS AND CHARLIE SHEEN BACK TOGETHER?
According to Denise, moving forward with her mother's memory means cherishing every moment with her three little ladies, including adopted daughter Eloise, whose middle name honors her mother.
Article continues below advertisement
"I love being a mom," she says. "I feel incredibly blessed to have three healthy girls."
How is Eloise?
"Amazing! Everyday she's changing. She loves to clap. Her big sisters put on dance shows and she's their best audience."
OK! NEWS: DENISE RICHARDS AND RICHIE SAMBORA CALL IT QUITS
Her mom's influence is still felt every day.
In fact, she credits her mom with her love of beauty.
"My mom knew how much I loved makeup from an early age," she says. "I loved watching her get ready for dates with my dad. She always felt less is more with makeup!"
Denise is everywhere! Pick up the Denise Richards Volume Extend by Cristophe hair care collection. Also, check out the OK! on newsstands later this week for more on her relationship with Charlie. Don't miss her Tyler Perry comedy, Madea's Witness Protection, which hits theaters Friday.