NEWS
Red Carpet Confidential: Giuliana Rancic Admits She Lied About Her Age When She Met Bill Rancic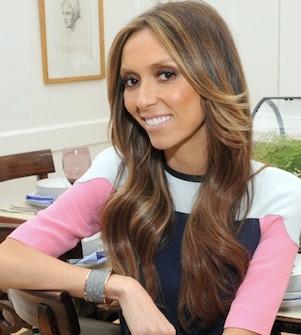 Giuliana Rancic has it all — a hot reality show, hot E! News gig and equally hot husband in season one Apprentice winner Bill Rancic. But if she didn't tell a fib early in their relationship, she might not be where she is today.
Before they tied the knot in 2007, the thirty-something glamour girl admitted she lied about her age.
"I lied about my age when I met Bill, for sure," she tells me Wednesday while promoting Glade Expressions. "I told him I was 29, and I was 31. I just knew he was the type of guy who would never Google it."
Article continues below advertisement
OK! BLOGS: RED CARPET CONFIDENTIAL: GOSSIP GIRL'S KELLY RUTHERFORD: WHY I WAITED TO BOTOX
Just because he didn't sleuth it out doesn't mean the truth wasn't ultimately revealed.
"It was so funny because he started planning my 30th birthday. He was calling all of my friends, and little did he know, I had a 30th birthday the year before, so no one was calling him back — my sister, family, no one. And he was thinking to himself 'God, her friends are horrible people, they don't even want to plan her birthday with me.' It was just so funny."
She continues, "Then, finally, my friends and my sister were like 'you have to tell him, he won't stop calling us. You've got to tell him you're not turning 30.' When I finally told him, I broke it to him over a sushi dinner, with my sister there, because I needed her backup. And I honestly didn't think it was going to be that big of a deal. So I gave him my Hollywood age, no big deal."
Despite her relaxed attitude, the truth didn't go over so well with her hubby-to-be, now 40.
Article continues below advertisement
"He lost it! He was so upset. It's amazing — Bill and I had such a different point of view when it came to that. To me, it's so harmless — shaving a couple years off of a girls' age — but he felt like 'if you're lying about that, what else would you be lying about?'"
She adds, "I felt like 'big deal, it's a little white lie, it's so not a big deal. I didn't realize I was going to marry you.' To me, it wasn't a big deal, but he didn't like it."
Would she do it again?
"Absolutely, because I'll tell you something: Once we were dating and hot and heavy, I remember Bill saying something like 'oh, it's so great you're 29, I don't date girls in their 30s,'" she says with a laugh. "Meanwhile, I am 31, and I'm like 'yeah, why would you? Eww.' And then when he found out, he lost it. Now he's said — just the other day we were talking about it — 'thank God you lied about your age, because it probably wouldn't have gone any further after that first date.' I'm like 'Bill!' See? Sometimes it pays to lie."