NEWS
Red Carpet Confidential: Heidi Klum Didn't Want To Be "Ugly" For Haunted Holiday Bash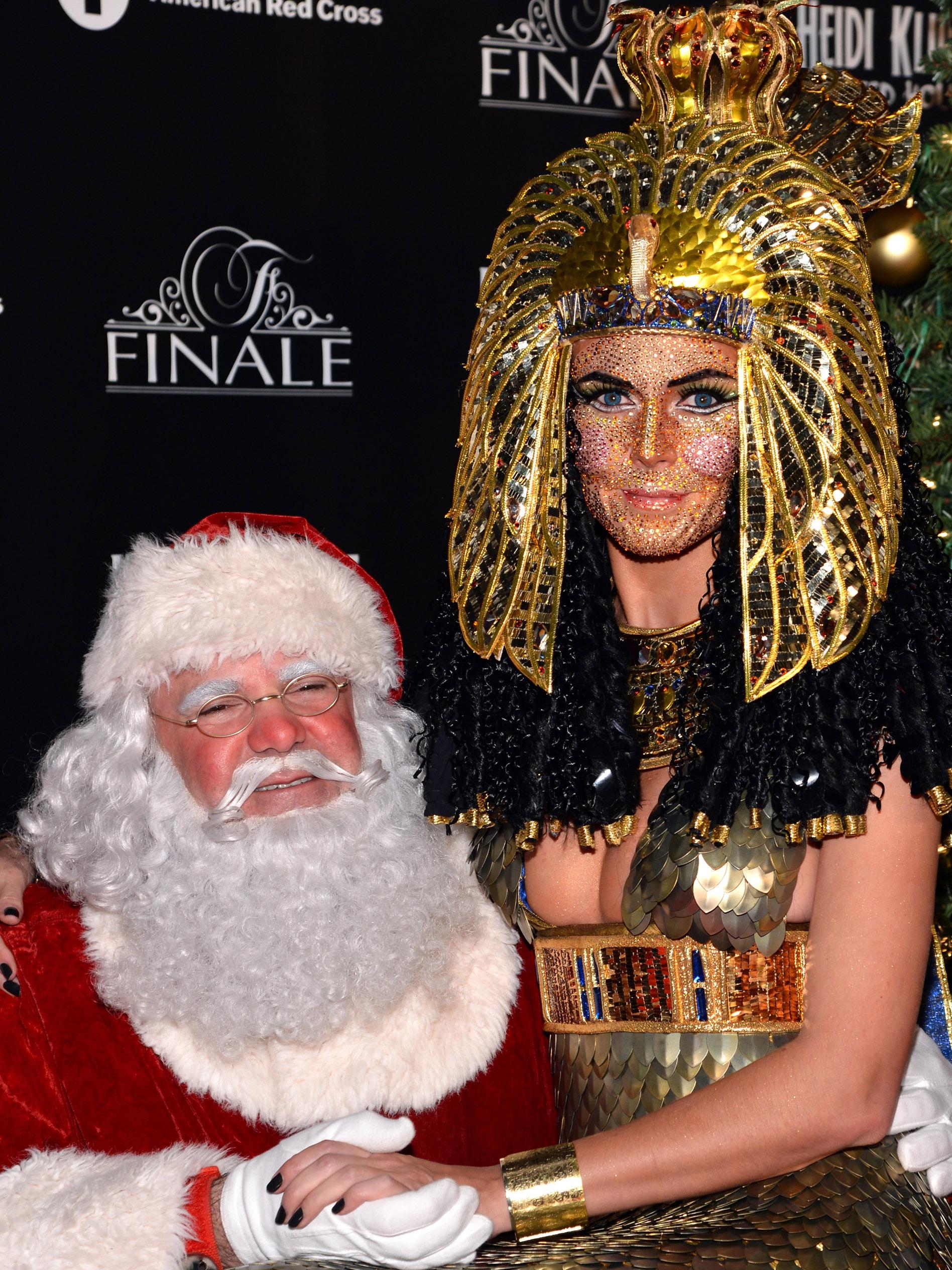 Heidi Klum towers over the crowd when she enters her Haunted Holiday party donning an elaborate Cleopatra costume.
"I like to be tall, always, because I like to see everybody," she says this week during the Svedka Vodka-and-Smartwater–sponsored bash benefitting the American Red Cross held at Finale in NYC. "They're pretty high. It's a little tricky to walk in. It's very heavy."
Hm, is she comfortable?
Article continues below advertisement
She continues, "But gluing all these hundreds of stones on my face took a little longer. It took maybe three hours to put my face on, and then it took me ten minutes to get dressed. It's the face that took a long time, because they're all individually put on."
As for taking everything off?
"Coming off, I don't know. To be honest, I've never done this before, so let's hope that it will come off with glue remover!"
Article continues below advertisement
Of course, when she put together her costume, it was originally meant for Hallloween, but that all changed in the wake of Hurricane Sandy.
Hm, was she affected?
"No," she says. "I mean, I was here. I was in a hotel, and I didn't have electricity, but it doesn't matter. If you lose your house or you lose a loved one, then you were affected. I don't live here anymore, so when you're in a hotel and you don't have electricity, I mean, who cares? No. I'm not complaining at all."
She reschedules the event, and turns it into a benefit with holiday touches.
"I've been really good this year, I promise," she coos to Santa while sitting on his lap.
OK! GALLERY: HEIDI KLUM, TAYLOR SWIFT, KIM KARDASHIAN AND MORE CELEBS ARRIVE AT THE MTV EMAS IN GERMANY
Fourteen years into her annual costume bash, she has one requirement.
"I thought that I was a little ugly last year, which I love, but I always like to change it up," she says. "I don't always want to look the same. I really was like, 'you couldn't be more ugly.' With the Invisible Woman, you could visibly see where all the veins are and all the muscles are when you ripped the flesh off. That couldn't be more weird and ugly. Here in NYC, I was an ape, so I thought 'I want something really pretty and sparkly for a change.'"
MORE ON:
Red Carpet Confidential
Article continues below advertisement
Of course, fourteen years into her annual event, the pressure is to devise a bigger-and-better costume is greater than ever.
"It's hard," she says. "In the beginning, my first one or two costumes were a little simpler. Every year I always try to top myself. Every year, I try to go a little more wild and outside of the box. It's hard to come up with something new and different. I don't want to be expected — I always try to make it very innovative."
She adds, "The team that helps me do this — I love what they do. They're artists. They make everything from hand, and wow. You don't go to a shop and buy it — they do it."
What was her inspiration?
"I love Cleopatra," she says. "I just like the costume part of it."
OK! GALLERY: HEIDI KLUM TAKES KIDS PUMPKIN PICKING WITH BODYGUARD BOYFRIEND MARTIN KIRSTEN
In addition to partygoers like Katie Couric, Questlove, Amare Stoudemire and Pepa of Salt-n-Pepa, her kids Leni, 8, Henry, 7, Johan, 6, and Lou, 3, are amused by her different looks.
Article continues below advertisement
"Well, I send them photos and they have seen me in various crazy things. laughs I don't want to say that they're used to it, but I've been doing Halloween parties for so many years now, and they've seen me wearing different things. They think it's fun, I think."
Still, don't expect the Haunted Holiday bash to become an annual thing, like her famed Halloween party.
"I love Halloween," she says. "Halloween is really my thing. I love when people dress up. It's so much fun to see your friends change and morph into a different person."
She continues, "Everyone changes, and they dance. Normally, you don't see people dance. Usually if you go to a party, everyone is kind of cool, and they just stand around and pose. But not on Halloween!"
OK! GALLERY: HEIDI KLUM, MICHAEL KORS AND JENNIFER HUDSON HANG AT PROJECT RUNWAY SPRING 2013 FASHION SHOW
Of course, Heidi isn't afraid to let loose.
"I will not be fresh-faced in the morning, because I want to party. A lot of my friends are here, and they're all looking forward to it, year-after-year, to really have fun. Questlove is here, and he's one of my favorite DJs. Everyone loves to let loose. Even at a time like this, people also want to have some fun times. I think we combine it in a great way where we can help people at the same time."