NEWS
Red Carpet Confidential: Inside The Inaugural Ball With Alicia Keys, Jennifer Hudson & Jamie Foxx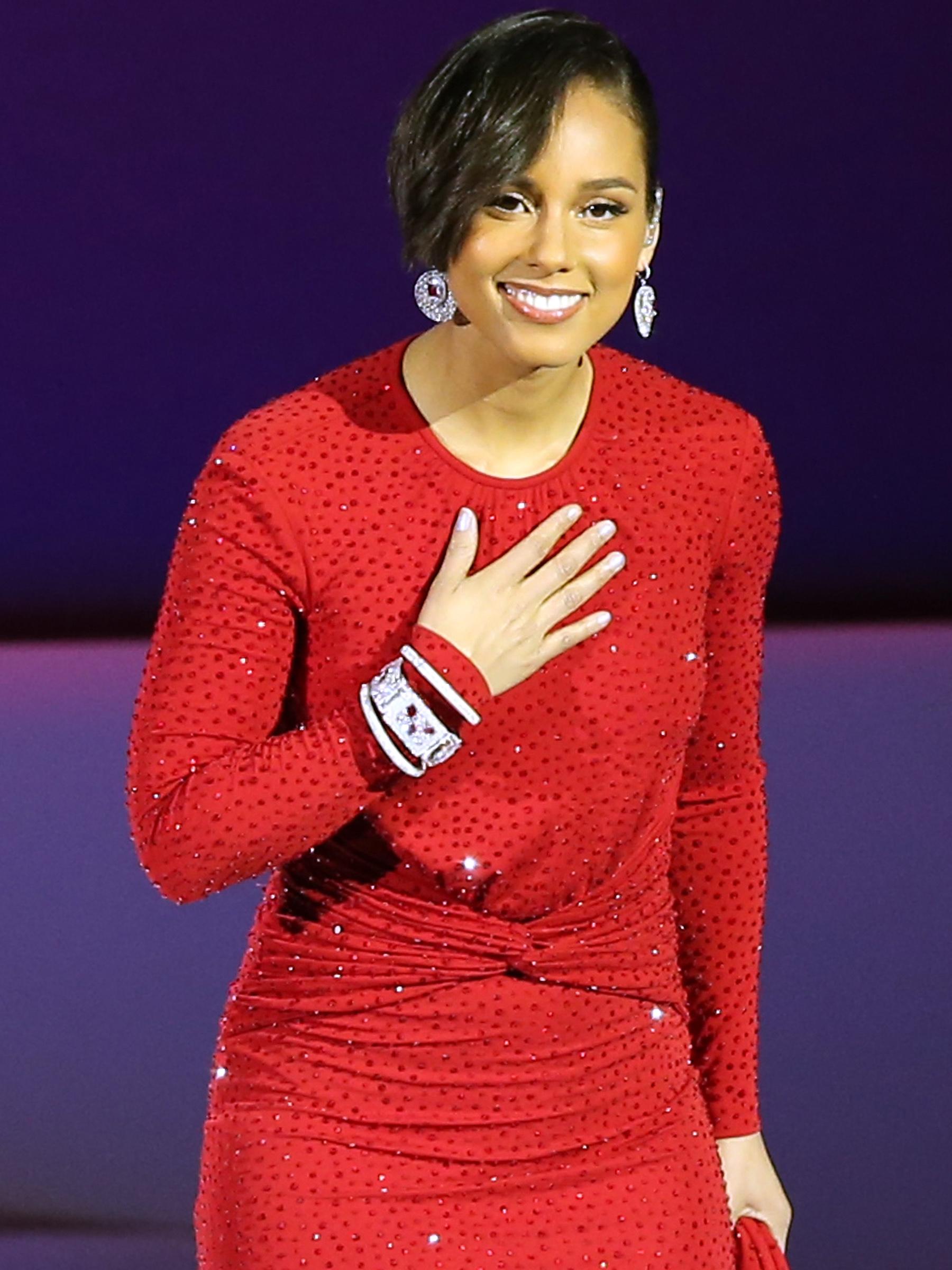 It's a happy day when President Barack Obama is sworn in for a second term Monday, and what better what to celebrate than with the Official Inaugural Ball?
The biggest surprise is that there are many light moments courtesy of the President and Vice President Joe Biden that include a jokey kiss between Jamie Foxx and an elected official, rolling "rs" and an affinity for 70s love songs. Plus, who could forget the Berenstain Bear music, and signature pretzel bowls?
Article continues below advertisement
The stars can't get enough of the President and his people.
OK! GALLERY: STAR STYLE AT SUNDANCE: THE BEST COZY-CHIC LOOKS
Sparkling in a backless Michael Kors gown, Alicia Keys bows to the crowd to open the Official Inaugural Ball held Monday at the Washington Convention Center.
"It's incredible," she says. "You can feel the energy everywhere that you go."
While she opens the evening with New Day, it's the cheer-inducing sendup of her hit Girl On Fire reimagined as Obama's On Fire that gets the crowd pumped.
After Mexico's Maná performs in Spanish, Brad Paisley takes the stage to sing hits like Welcome To The Future, adding "God bless you Mr. President. Good luck in the next four years."
OK! GALLERY: HEIDI KLUM, TAYLOR SWIFT, KIM KARDASHIAN AND MORE CELEBS ARRIVE AT THE EMAS IN GERMANY
Will.i.am slides through for interviews.
"It's great to be able to bring our concepts to reality and be an entrepreneur, inspire and continue to invest in kids' education and build up families from losing their jobs because technology has taken them away from them," the Black Eyed Pea says. "People that can, do things as well."
Article continues below advertisement
Up next is Fun., who perform their hits Some Nights and We Are Young. Hm, is white-tennis-show-wearing frontman Nathan Ruess trying to become the next Adam Levine? It just might be working.
"We're absolutely thrilled to be here tonight," he says.
A pomp-and-circumstance march plays. Who could it be?
Ah, yes. President Barack Obama and First Lady Michelle Obama take the stage at 9:22 p.m. ET for the first dance. Who performs but my (red carpet) pal Jennifer Hudson! What an honor that must be! She says, "Let's groove" before belting out an emotional rendition (complete with slinky dance moves!) of the 70s Al Green classic Let's Stay Together. The prez gets down!
Article continues below advertisement
What has been the most magical moment of his evening?
"To play here, and also we were with President Obama now," the sunglass-wearing rocker tells me. "He rolled his tongue like they do in Latin America to his wife. We just laughed."
He continues, "We talked with him. He said 'I need your help to press the Congress to move the people. We can do the reform together. We will be there.'"
Performing tonight is a highlight for the rock group.
"For us, it's an honor," he says. "For twenty years coming here, all the Latin people support our careers here. We want to share all this with them, and just perform, because they are working and building the country. It's good for America; it's good for the United States, to have these people leading."
OK! GALLERY: KATHARINE MCPHEE, MEGAN HILTY AND JENNIFER HUDSON FILM SCENES FOR SMASH IN NYC
And now it's time for the comic relief of the night. At 10:43 p.m. ET, Jamie Foxx takes the stage with a piano to serenade Vice President Joe Biden and wife Jill with the Ray Charles number I Can't Stop Loving You.
Article continues below advertisement
Shockingly, after the tune is done, smiling Joe bends over and gives Jamie a peck on the cheek. What happens but Jamie chases him off the stage with lips puckered! Umm?!
Cue the Berenstain Bear music again, and they're off the stage to their next event.
OK! GALLERY: JAY-Z, BEYONCE, KANYE WEST AND KIM KARDASHIAN SPARKLE AT THE BET AWARDS
Dapper John Legend gets onstage to perform his soulful Ordinary People.
"History is not about one man," he says. "It's about all of us coming together."
Although one might expect the black-tie guests to fill up on decadent buffets complete with the finest foods prepared by only the top chefs, the truth is the only appetizers are pretzels heaped into bowls throughout the venue in keeping with concern for the nation's ongoing economic recovery. For the high-rollers? They nosh on an assortment of pastas and crudités.
Article continues below advertisement
COMING SOON! Want To Keep Up On All The Celebrity News? Sign Up For Our Newsletter HERE!