NEWS
Red Carpet Confidential: Jennifer Hudson Cherishes Late Mom's Lullabies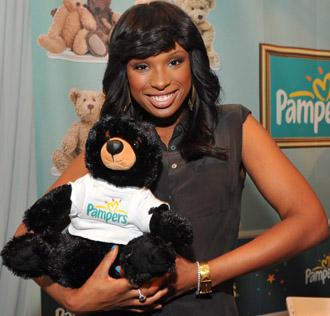 Busy mom Jennifer Hudson strives to give award-winning performances as she begins filming her new gig on Smash today. Still, she always makes time to put son David, 2, to sleep.
In fact, their nighttime ritual is one of the most special times of this Oscar-and-Grammy winner's day.
"We do have those musical moments," Jennifer, 30, tells me Wednesday at the Pampers Lullabies event in NYC. "When he was younger, I would play jazz music, stroll him around the house and light candles. It would soothe him down. I'd sing to him."
Article continues below advertisement
OK! NEWS: JENNIFER HUDSON ANNOUNCES LAUNCH OF QVC CLOTHING LINE
As he grows older, his regular routine has changed.
"He likes to watch his good stuff, or he likes to do puzzles at night," she says. "My favorite is shaking him on my knee until he falls asleep like a baby. That always calms him down and relaxes him, and he falls asleep from there."
By day, little David loves to duet on Where Is Pointer? — Jennifer busts out the hand motions and everything! He's also begging for a sister, and looking forward to her wedding to his dad, her fiancé David Otunga.
OK! BLOGS: RED CARPET CONFIDENTIAL: ROBIN THICKE SURPRISED BY DUETS BABY NEWS
Of course, sharing that time together at night is something she holds dear, and she recalls the memory of her own mom, Darnell Donerson, who was tragically killed in 2008.
"It is so important to have that time with your kids," she says. "Those are the special things that children keep and always remember and cherish the moment. That's what I reflect back on – as a child, when my mother would have me on her lap and sing to me. Those are the things that build your character."
Although her son David is in NYC, he had to miss this party. He would have loved it. Not only was his mom's video of Lullaby and Goodnight played, but while the adults noshed on mini cheeseburgers, French fries and pizzas, the kids decorated cookies!
Jennifer Hudson teamed with Pampers to record the classic Lullaby and Goodnight, which is available for free download on Pampers Facebook page, www.Facebook.com/Pampers, to honor the joyful way that parents bond with their little ones through music.